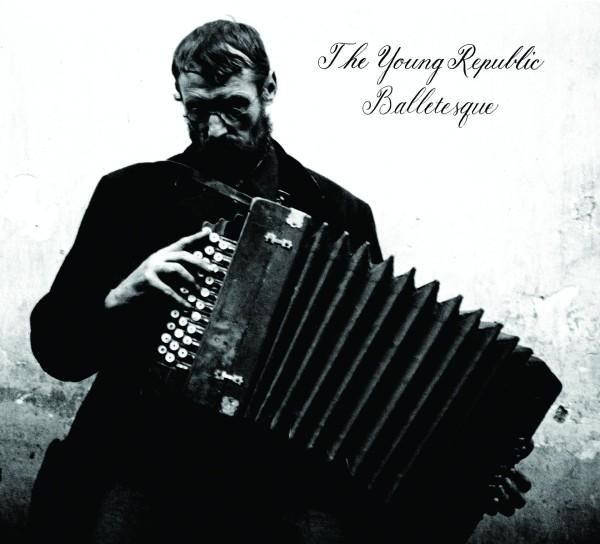 Here's the second part of the track-by-track rundown on Balletesque, the new album from The Young Republic, by lead singer Julian Saporiti. Here he tells us more about the Nashville band's second (or first proper) album, including how to pronounce the title, how they found their groove and how you might find yourself in some bizarre New Orleans gypsy Ferrari driven by rock n' roll skeletons. Awesome.
Balletesque - Nate Underkuffler saved this album not only by picking up piano duties from our no-kiss-goodbye-no-nothin' pianist who left us early last year, but also by digging through my unfinished demos and finding Balletesque, which at that time had no kept lyrics and was called Because You Can. Even in acoustic, half improvised form, Nate saw potential and a few terrorizing guitars later, we emerged with the title track. Just for the record it is not pronounced 'Ballet-esque'. The 'T' is pronounced making it sound like 'BalluhTesk'.
The Wolf - With the addition of Logan on drums, we found his years of Idaho bar band experience helped to provide a much more stable rhythm section than we had once possessed. This enabled us to GROOVE - a concept foreign to most contemporary rock groups and certainly to us up until a couple of years ago. So many bands can make all the weird noises in the world with their keyboards, sing twisted poetry, be plain weird, but they can't play a simple blues and THAT'S THE KEY to what we do. The Wolf is a blues thing. We add our music school twists to it - especially at the end of the second to last verse - but it's the blues and all credit due to those whose shoulders we stand upon.
Bows In Your Arms - This song dates back to our sophomore year at Berklee. At the time we knew the song needed to be big and loud, but didn't have the chops or disposition to do it justice. There were messier attempts, jazzier attempts, a nice acoustic version we did on our first UK tour, but nothing ever stuck until we moved down to Nashville and put it along side the darker material composed for Balletesque. Once we locked into the groove - can't stress this enough - worked its way into our fingers and feet, we destroyed the song in the studio, I mean, absolutely blitzed it. Screeching, ninja turtle ooze guitar - courtesy of Mr. Merkl's Whammy Pedal - mutated the track right out of the gate. By the time the record is blazing to its close, you find yourself in some bizarre New Orleans gypsy Ferrari driven by rock n' roll skeletons.
Tidal Wave - There is so much to this track that a paragraph will not do. It's the climax of the album and there is some really, really strange and interesting stuff going on. I think it might be confusing if you approach it with the mindset of listening to a pop song. It's not. It's an orchestral composition. I don't say that to sound educated or high-brow, that's just what it is. It was scored out and labored over for months. To me, it is notable for some of Nate's most ingenious orchestrations to date - the colagno batuto technique implemented during the 7/4 section might be a first for a pop record. We also benefitted mightily from the services of the Blair Music School students we hired for our string orchestra and brass, so a nod to them.
Autumn's In The Trees - Please refer to Nate's analysis of this song on The Young Republic's blog
Tough Year (Hard Waltz) - It was a very tough year for us last year, but that's where Balletesque came from, so in the end, we're better than even. Our band split is pretty well documented at this point and there's no need to drag names through the dirt - especially if those names aren't even worth dragging through dirt. Tough Year is the big exhale. It was the last written, the last recorded and a fitting closer - a bit of a cleanse to a very dark album. The Blair String Orchestra was once again called into our Sky Mountain studio, this time playing a gorgeous chart written up by the lovely Kristin Weber. I have very fond memories of sitting in the control room at a studio on music row where we were cutting the organ and being amazed at how brilliantly big it all was. This is my favorite song on the album.
mp3: The Young Republic - Balletesque
The first part of the track-by-track is here.
Once again, Balletesque is out this week on End of the Road Records. Buy from Rough Trade and get a bonus 4-track CD. You know it makes sense folks!
The YR start their UK tour on 22 October in Cardiff, and ends at Cargo in London on 2 November. Be there.