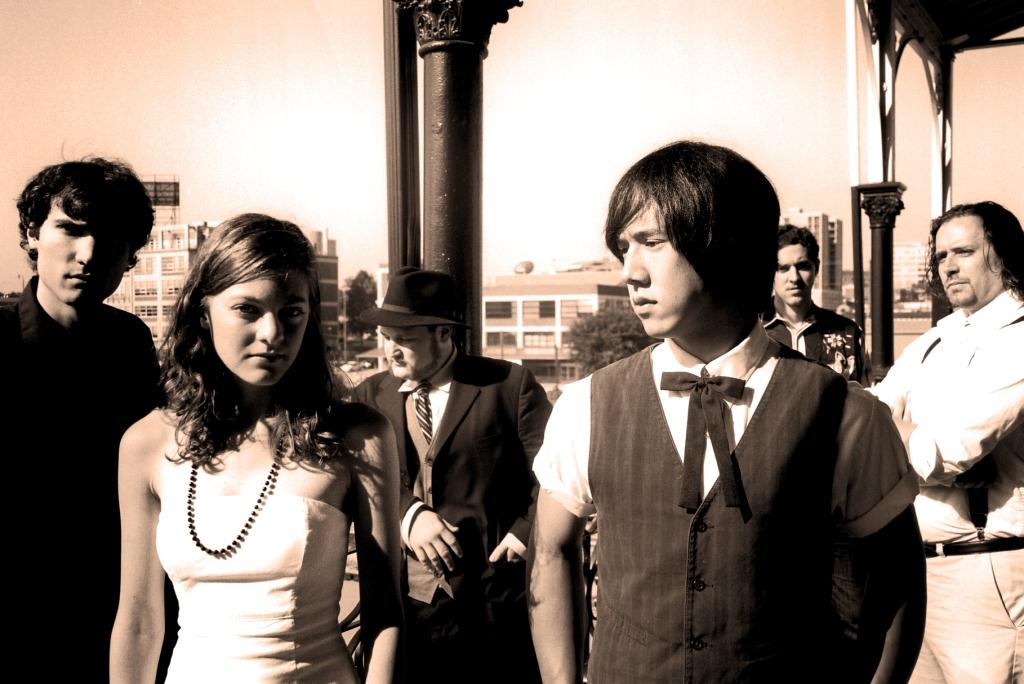 Today's a long-awaited one. It finally sees the release of The Young Republic's Balletesque. Not that I've been waiting all this time though; I've been lucky enough to had a copy for a while, and long-time readers (are there any of these?) will have heard me enthusing at various points this year. But it's out this week folks!
Rather than me banging on again about how good it is (and it does get even better the longer you spend with it), I'm going to had over to frontman and main songwriter Julian Saporiti, who's been kind enough to do a track-by-track for me. So read on for the first installment of two, with all you need to know about the tracks on the album (apart from Introduction, the lovely orchestral flourish which opens Balletesque) including the parts played by the legend of the Black Duck, skeleton outfits and an awesome tuba solo.
The Alchemist - Our piece de resistance. As carefully composed, orchestrated and arranged as a most of our music is, I usually have a good comprehension of why each song sounds the way it does; why things work and why we did certain things. Aside from the hazy recollection of typewriting the lyrics in a cabin overlooking the Ohio River, memories are scattered and blurred for how this song came to be. The Alchemist is still a mysterious record for me to listen to, which makes it much more enjoyable when I hear it. It is a wild, violent, beautiful and shocking five and a half minutes. The string trio chops and dives across burning glass guitars and off kilter freight train rhythms. Horns erupt from staccato chorus gut punches and bowed glockenspiel, swirling organs and monstrous war-tom percussion send the whole affair somewhere off the map. The many parts (movements?) of the song reflect the dark, bursting narrative of the lyrics, instrumental passages acting more as program music, evoking emotions through sounds. Much like Modern Plays a few years before it, The Alchemist was written by a combination of our brash ambition, focused compositional skill and a strong grip. Sometimes you control a song from start to finish, each note perfectly placed by the composer with exact intent. In the case of The Alchemist, it led us and we were only too happy to follow it.
Black Duck Blues - The basis for this song was actually one of my final pieces for a guitar class at the Berklee College of Music. The basic slide melody hung around for a while as no set of lyrics would seem to fit. During a weekend spent bumming around the Cape, I went into a warm, old bar, smelling of polished wood and whiskey and saw the story of THE BLACK DUCK written on the wall. Between talking to the bartender and some books checked out a week later from the Mass. Ave. library, I was able to flesh out the legend and put it to music. Eventually, Bob was able to bring that original acoustic guitar slide part to electric life and the band, led by Chris Miller's jungle bass lines, smacked a nice stomp to it.
Napoleon Roses - Rarely do the lyrics in our songs stray too far away from the traditional folk song narrative format. Napoleon Roses however is all imagery. It was originally written while looking out into the woods of Sky Mountain, watching the birds fly in and out of the sunlight, odd thoughts dancing around in the morning. A demo was made that day and then forgotten about until we realized its minor tonality meant it might fit somewhere in Balletesque. We got Nate to swing those chords on piano and it fell together.
Rose Parade - A tip of the hat to Mr. Waits who we had seen in Knoxville the summer before recording Balletesque. One specific line in this song always gets me smiling and the horns still make me howl - especially the tuba doubling Chris' bass part on the chorus. Bob's guitar work is especially tasty on the last verse of the song where it picks up into its own chromatic melody and then trills back and forth in harmony with Kristin's violin as the song crashes to an end.
Sam Clemens - This is my esteemed colleague Bob Merkl's favorite song on the album. It is one of our more original pieces of music as the harmony took us into new territory with the first appearance of a minor-major 7 chord and some clever modulation. I have a very fond memory of playing this song under falling leaves in full skeleton make up on Halloween of last year. To me, that image is the best way I can describe it.  Maybe Chris will release the video someday. The tuba solo is my favorite musical moment of the whole album.
mp3: The Young Republic -Black Duck Blues
Buy Balletesque from Rough Trade and get a bonus 4-track CD EP.
Second part tomorrow.