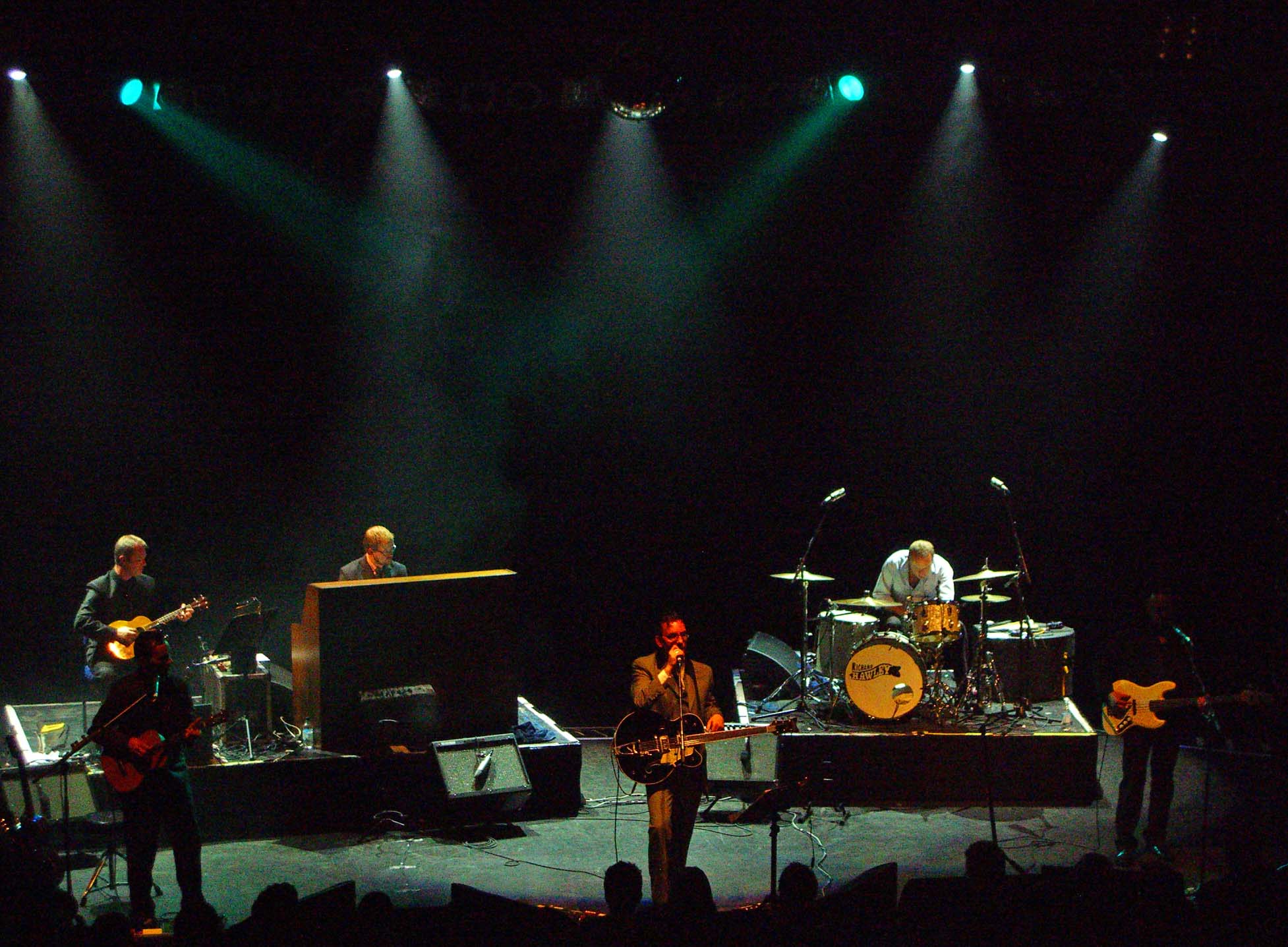 Some things change, some things stay the same. Richard Hawley seems to have these in exactly the right proportions. His new album Truelove's Gutter gets it exactly right. The familiar, late-night melancholic crooning that everyone knows from his previous five albums is present, correct and marvellous. But unlike previous long-player Lady's Bridge which was basically a retread of breakthrough record Cole's Corner, his latest  batch of songs are long, downbeat, and musically the best thing he's done in years.
He plays it tonight in its entirety, interspersed by carefully selected songs from his back catalogue which match the mood. So no Serious, no Just Like The Rain, nothing like upbeat. But that's fine, and the gig keeps on that downbeat melancholic vibe, which provides plenty of moments of spine-tingling gorgeousness throughout. It also doesn't equal quiet, and on a few occasions, Hawley and his regular, brilliant band fairly crank it up. The finest example is Soldier On, which is truncated from it's 10-minute album version, but still takes off spectacularly halfway through, when the guitar noise approaches something that Mogwai would be proud of. I almost wished I had brought earplugs to a Richard Hawley gig!
But most of the time they wouldn't be needed, and on occasions you can hear a pin drop amongst the reverential audience. Hawley seems oddly quiet tonight. Sure, there's a bit of the usual banter, enthusiastic swearing and off-colour jokes, but not as much as I'd expect. Maybe it's the more sombre feel of the evening. Or maybe it's just that the audience are just too polite and don't give him the opportunity to do his hilarious heckler put-downs. But no real worries. He gets on with playing the songs and all is well.
There's new addition to the band in the shape of someone who numbers the musical saw amongst his talents. This is used to stunning effect on a few songs, most notably Don't You Cry and Don't Get Hung Up In Your Soul which are almost impossibly beautiful. The bloke is totally killing it on the saw, so it's almost an anticlimax when Richard invites Lisa Marie Presley onstage to sing a song since, he tells us, they've been writing together. As a piece of exclusive music news it's a good time to make it known, but musically, it's the weakest thing tonight. The song just isn't as strong as anything else that preceded it, and Lisa-Marie's brassy vocals just aren't to my taste. Thankfully that interlude was blasted away by a searing version of The Ocean, where Hawley seems to momentarily forget his role as a latter-day alternative Roy Orbison and re-embraces his indie rock past by wringing all sorts of noise out of his guitar as the decibel levels rocket again. A suitable ending to a brilliant gig. He may or may not be able to help resurrect his famous guest's career, but his own is in particularly rude health.
mp3: Richard Hawley - Don't You Cry
mp3: Richard Hawley - The Ocean
Truelove's Gutter is out now. Buy from Rough Trade. The tour continues this month. Dates on the website.