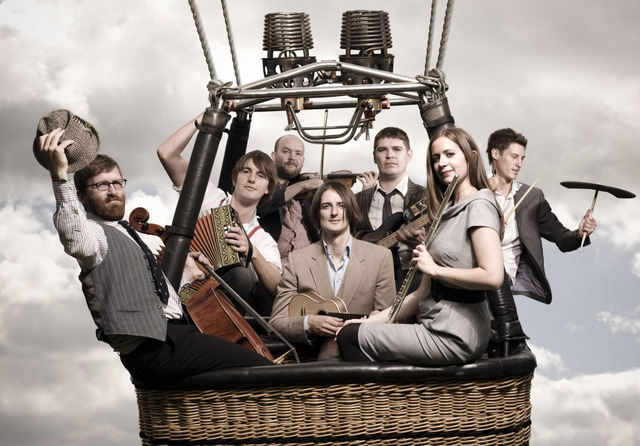 Today we have a double dose of The Leisure Society to celebrate the re-release of their The Sleeper album on new label Full Time Hobby. I was a little equivocal when it was first released on Wilkommen records earlier in the year, but since then it has become a firm favourite, winning me over by the strength of the songs and the gorgeous, sweeping arrangements.
It's been a bit of a whirlwind year for the band and particularly co-founder Nick Hemming, when he was thrust blinking into the media spotlight after his Ivor Novello nomination for The Last of the Melting Snow. Since then they've toured increasingly larger venues, won a whole heap of new fans, and were one of the big hits of the recent End of the Road Festival, where they wowed the Saturday lunchtime crowd and played a much talked-about secret acoustic show in the woods. Now, perhaps inevitably comes the album re-release, augmented by an 8-track bonus CD of b-sides, demos and their celebrated cover of Gary Numan's Cars.
In Seven Songs tradition, I asked the seven questions, then was pleasantly surprised to see that not only Nick, but other founding member Christian Hardy also chipped in his tunes. So check out 14 songs with The Leisure Society. Top people.
1. A song that's been in your head today
Nick: Meant For You by The Beach Boys pops into my head most days.
Christian: Inchworm from Hans Christian Anderson.
2. A song you love playing live
Nick: Cars by Gary Numan; the cello build-up always makes my spine tingle.
Christian: I Shall Forever Remain An Amateur.  Brand new song of Nick's.  We played it recently in Exeter and in Brighton.  Both times felt tingly.
3. A guilty pleasure
Nick: Prince Charming by Adam & The Ants (I don't feel that guilty about it though, they were great)
Christian: Honesty by Billy Joel.  The production on nearly all of his music is pretty seriously garish, but he wrote brilliant brilliant melodies and some great lyrics.
4. A song you wish you had written
Nick: The Ballad Of El Goodo by Big Star
Christian: Badhead by Blur
5. A song you think everybody should hear
Nick: Hammond Song by The Roaches
Christian: If There's Anyone by The Climbers
6. A song off an album you are enjoying just now
Nick: My Heart by Wildbirds & Peacedrums
Christian: The Rip by Portishead - I cannot stop listening to this song after a year or more.  The clunky nylon strings coupled with synth arpeggios - SO SO GOOD.
7. Tell us something about a track from your new album
Nick: Not thinking I'd be able to do justice to The Last Of The Melting Snow I sent mp3s to Neil Hannon & Guy Garvey asking them to sing it. I never heard a word back, although Guy Garvey eventually became the song's biggest advocate.
Christian: There's a verse in If God Did Give Me A Choice which is about our bass player Darren.  He came over one night just over a year ago to tell us he was done with music and had sold his Rickenbacker.  He didn't realise it but Nick and I were crushed.   As it transpired we coerced Daz back into the fold and now he is ours again.  He only spotted the line recently at End Of The Road festival and it was quite emotional when we sat down and talked it through.
mp3: The Leisure Society - If God Did Give Me A Choice
The Sleeper with the A Product Of The Ego Drain bonus disc is out this week on Full Time Hobby. Buy from the label's store. Fans who already have The Sleeper can get a separate copy of Ego Drain (and a t-shirt) from the same place.
The Leisure Society are playing several UK dates throughout autumn, including an appearance at SWN festival in Cardiff and a headline London date at St Giles in The Fields on 25 November. Full details on the band's myspace