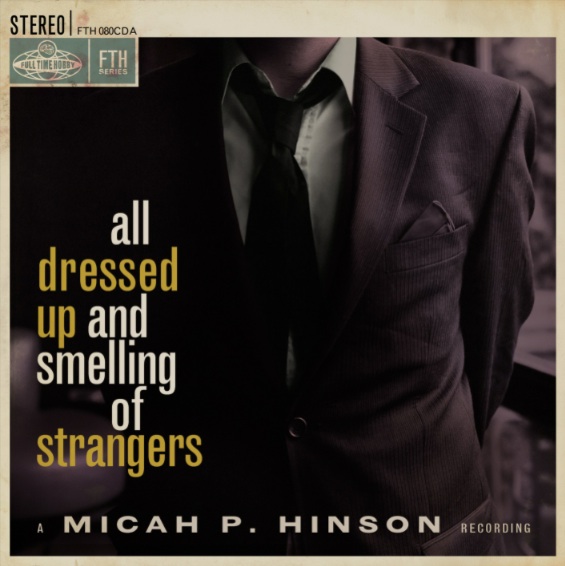 Fans of Micah P. Hinson, those who have loved his three albums of powerful, melancholic, soulful, country-tinged rock, may have been a little surprised by his latest record. Instead of baring his soul to us, he's channeling his energies into interpreting other people's music. Yes, it's a covers album, and a double album at that. Which is probably where it goes a little awry. One-off covers are always fun, especially if they're a live favourite. Even covers EPs can be good. But a whole album is just too much of a risk, and this is no exception. Micah has an amazing voice, and none of the songs are rubbish, it's just that they're not very interesting. I mean, another cover of Dylan's The Times They Are A' Changin'? Yawwn.
However where All Dressed Up and Smelling of Strangers (good title) fails in some places, it succeeds in others. His cover of Emmy The Great's We Almost Had a Baby stands out, not just because most of the other covers are well-known songs by 'greats', but because by giving this particular song a male voice, lends it a slightly sinister tone which is disarming and compelling. His stripped-down acoustic version of My Way, rather than being the fist-pumping self-affirmation it usually is, seems to bring out the 'final curtain' element much more, almost a stubborn refusal to accept inevitable doom. And his version of Patsy Cline's Stop The World, is simply a soaring, raucous delight.
So a mixed bag certainly, but one that has its fair share of excellence. If it was half the length, it might be amazing. But still a worthwhile addition to an already impressive canon. Of course we're all waiting impatiently for Micah's next album proper, but this'll do nicely in the meantime.
mp3: Micah P. Hinson - We Almost Had a Baby (Emmy the Great cover)
mp3: Micah P. Hinson - Stop The World (Patsy Cline cover)
All Dressed Up and Smelling of Strangers is out now on Full Time Hobby. Buy from the label's shop.