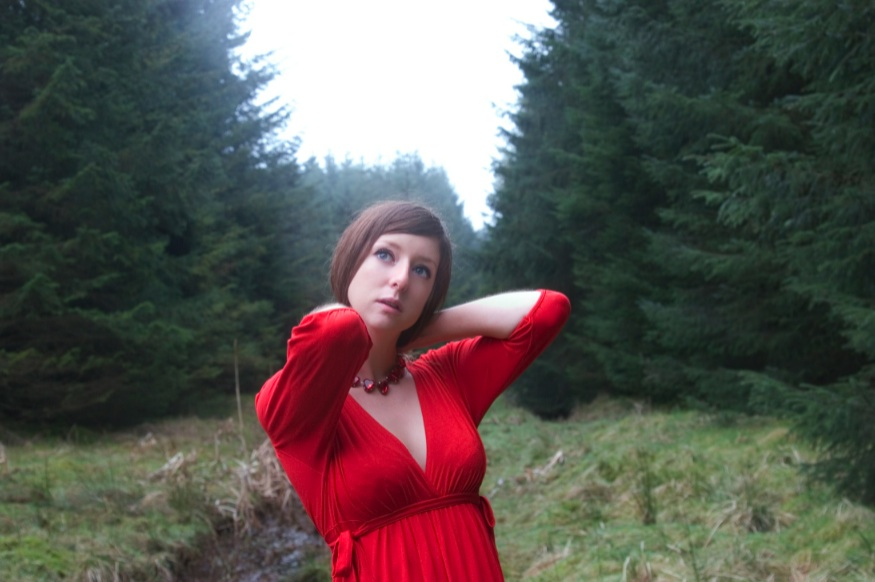 You may not know much about Strike The Colours, but they're a band with rich pedigree. Primarily, it's the project of Jenny Reeve, who's known for her work with Arab Strap and Malcolm Middleton, but joining her are pals who divide their time between playing with an impressive host of bands and artists, such as Idlewild, Alasdair Roberts, Emma Pollock and Zoey Van Goey, and other lesser-known luminaries such as Olympic Swimmers, Lord Cut-Glass and erm, Take a Worm for a Walk Week.
So it's a band well-embedded in the burgeoning Scottish music scene, and their music seems to draw from the best of what surrounds them. Jenny's second album Seven Roads is full of strong songs which are too substantial to be indiepop, have too much electric guitar to be folk, and are not fierce enough to be rock. But the spot where Reeve has placed herself is one where she's very comfortable, knowing where to crank it up, and where to record herself stripped down to only guitar and vocals. It's another production from the home of Scottish indie, Chem 19, and another winner. A grower, and a wee gem.
So to find out more about the music currently circulating in the world of Jenny and Strike the Colours, I've popped the usual seven questions.
1. A song that's been in your head today
Treasure by Zoey Van Goey
2. A song you love playing live
The Things I Can't Explain
3. A guilty pleasure
Hungry Eyes by Eric Carmen-you can blame being brought up with Dirty Dancing for that one!
4. A song you wish you had written
River by Joni Mitchell
5. A song you think everybody should hear
Don't Cry, It's Only A Penis by Arab Strap
6. A song off an album you are enjoying just now
No-one Had It Better by King Creosote
7. Tell us something about a track from your new album
Well, I guess I'll talk about If I Don't Belong because it's the only song on the record that's just me and a guitar. We deliberately kept it really naked, with no reverb, room sound or anything. The only way to achieve that was by setting a single mic up outside of the studio to capture  the open-air sound, and the traffic going by. We recorded it about 7 in the evening to try and catch the 7 o'clock geese that went over every evening.  I think there might be a solitary goose honk on there but you need to listen pretty closely! So it was a single-taker, for better or for worse. Davey wanted to get the lyrics over, the feeling of the song. I find it hard to listen to and to perform for that reason - I feel completely exposed. It's probably my least favourite song but the strongest on the record at the same time - weird!
mp3: Strike the Colours - If I Don't Belong
Seven Roads came out last week on Deadlight Records.  Buy from the label's shop.
Watch the video for current single Breathing Exercise here
Strike The Colours have just finished a short UK tour with Zoey Van Goey. Future dates on the myspace.