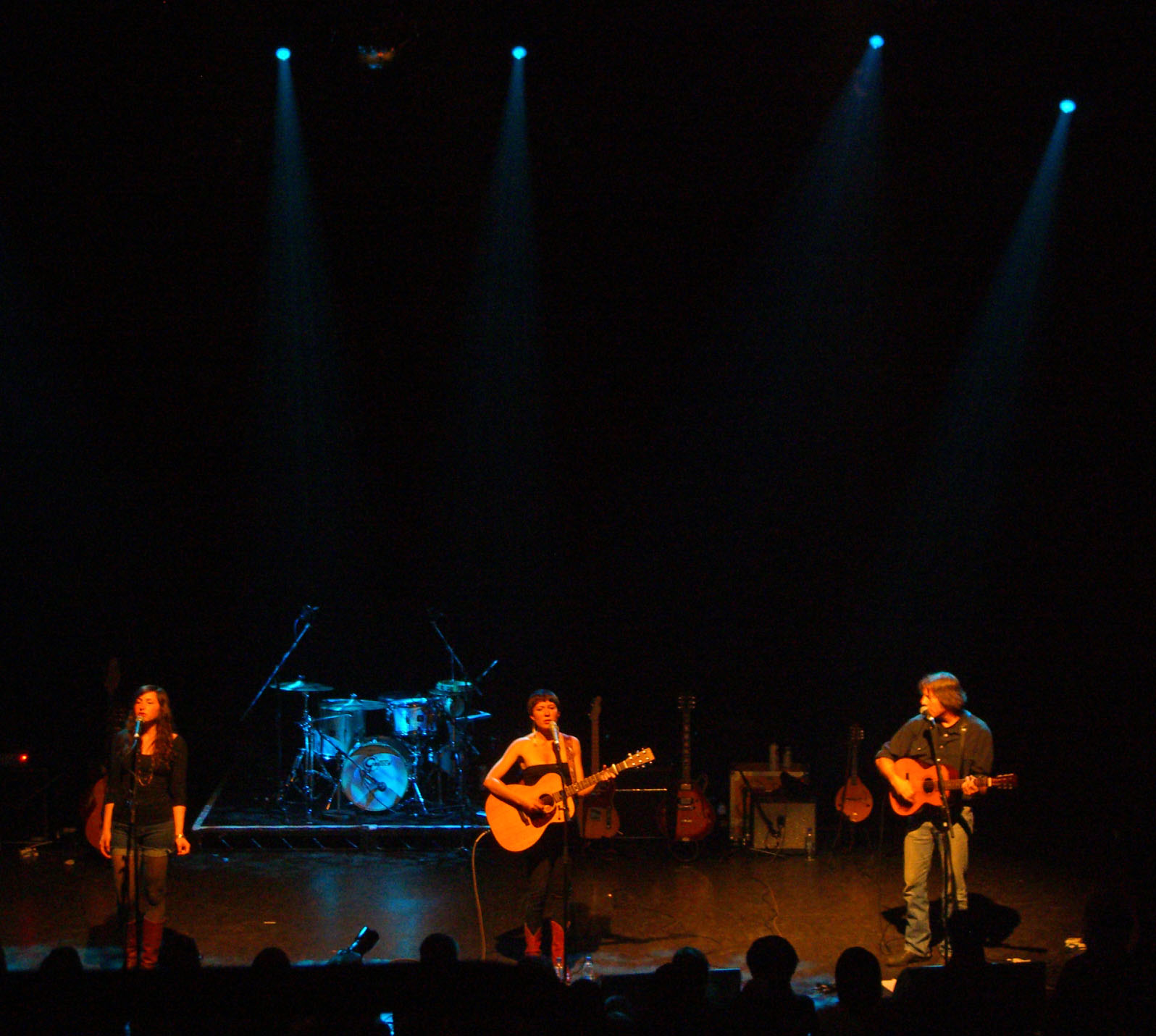 It was almost too good to be true. After ages wanting to see The Leisure Society and never quite managing, I was all ready to see them three times in six days. After their two excellent sets at End of the Road, I was looking forward to more sweeping chamber-folk in support of Alela Diane at Shepherd's Bush Empire, but guestlist problems thwarted that, so we had to be content with hearing the stirring climax of A Mater of Time from the Empire foyer.
But never mind, we were really there to see Alela Diane, someone who I missed at the aforementioned festival, and was keen to see at her biggest UK show yet. Sure, she may not have filled the grand old theatre, but there was a still a good crowd, up for seeing Alela on her 97th gig of the year. We know this, because she told us. Saying it as part of an interlude where she bemoaned running out of ideas of what to talk to us about, could have horribly backfired. I mean, talk about making us feel like we're getting a special treat, when it's just another weary date on a long, long road trip. But it's testament to the strength of her music and winsome demeanour that things don't turn sour, and she soldiers on through.
Mind you, if she's running out of things to say, she could do one of two things. First, just keep playing these lovely songs. Then give more time to her bass player, who provides some unexpected and bizarre comic relief. This guy Tom (who I later found out was her boyfriend) delivers some deadpan stoner one-liners, which at first I though were unintentionally funny, then I wasn't so sure. Someone should film his bon mots and compile them for submission to Rad Dudes. Until then, he'll continue to provide amusement which is sometimes slightly at odds with Alela's otherworldly American folk tunes.
These contributions are more welcome than the bass, which seems an unecessary additon to these fragile songs, and the real highlights of the gig are when things are more stripped down. No bass, no drums, and Alela on her own with only the gorgeous backing vocals of Alina Hardin, and sometimes her dad (yes, her dad's in her band! how sweet.) on mandolin.
The songs are mainly all drawn from her recent To Be Still album, which is fine by me, because I prefer it to her debut The Pirate's Gospel, although the cheer that greeted the start of The Rifle showed that plenty people have a lot of love for the older stuff. There were also a few songs from the forthcoming EP which sees Alela and Alina teaming up to sing some new songs, some old traditional ones and other covers. All of it was pretty magnificent, none more so than the encore of Lady Divine - just devastatingly beautiful and a perfect end to a lovely gig, leaving us in a woozy autumnal mood, way to mellow to tolerate the pounding beats of a couple of nearby bars for a post-gig drink. We found somewhere dead, so we could let these backwoods melodies linger a little longer, savoured and sweet.
mp3: Alela Diane - Bowling Green
Buy To Be Still from Rough Trade (with bonus 12-track Alela mix CD). Alela and Alina 10 inch EP is out on Monday (5 October) on Names.