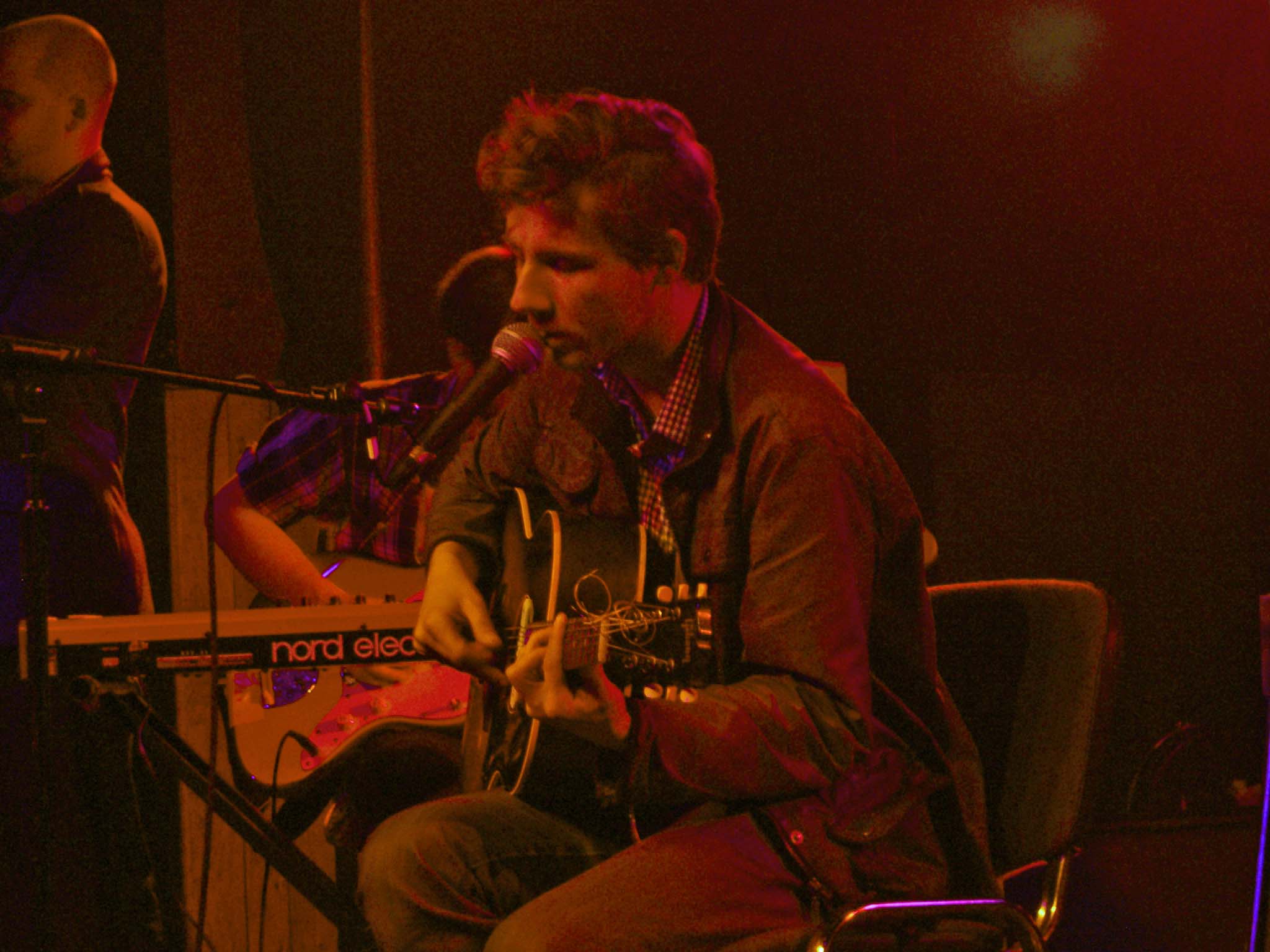 Dan Michaelson - Absentee frontman and all-round top dude - is about to embark on a tour of Britain. He released his first solo album earlier in the year, along with an assortment of pals going under the name of The Coastguards, and it's a fine record. Now, after several months of supporting other people, and the odd festival, he's taking his own show on the road around the country. All the dates are below, and I strongly suggest checking them out at a venue near you.
As a taster for the tour, I asked Dan a few questions, and he sent me a nice cover of Give and Take, originally by his pals The Broken Family Band, who by the end of October will cease to be.
mp3: Dan Michaelson - Give and Take
I missed your set at End of the Road. How was it? Any other good festival experiences from the summer?
It was amazing, EOTR remains my favourite UK festival of the year. I've played every year so far and managed the full three days this year. We were up against Brakes and Steve Earle playing at the same time as us this year, so I was expecting an empty tent but it was full, and nearly all the audience members had nice-looking features. We also played a festival in Paris, run by a magazine called Eldorado. We fell into all the tourist traps, 5 euro coffee, incorrect sandwich ordering resulting in disappointing lunch etc. Luckily we didn't mess up the gig, made a lot of new friends and arranged to do some songwriting with Magnolia Electric Company. Not bad.
How have the solo support gigs and tours gone this year?
Up and down to be fair. You can never tell which bands' fans will enjoy what we do… sometimes I don't enjoy what we do if I'm in the wrong mood. Still, I'd say 80% of the gigs went great, 20% open to interpretation. The Dodos tour was a highlight though: lovely people, lovely fans.
What are you most looking forward to on your upcoming headline tour?
Finding out who on earth bought our record.
What can we expect? Any surprises?
Given that I'm' not sure what to expect, I'm not sure what I'm offering. We're working on some cover versions that might surprise a few people. We'll probably be surprisingly drunk, or surprisingly competent playing whilst drunk. Not me, I'm awful… but the rest of them manage quite well.
Who are these mysterious Coastguards?
It's really a recording collective of friends from other bands. Members of Absentee, Fields, The Broken Family Band, Magic Numbers and Rumblestrips all chip in as and when they can. For this tour, we'll have the core group: Henry on drums, Horse on pedal steel, Laurie on piano and guitar, Laurie's brother Rowen on bass, and me.
I love the Broken Family Band cover. Shame that they're leaving us so soon. Have you got any further plans to work with Steven Adams or any of the BFB?
Steve's a dear friend and I think we'll do the odd thing here and there. Until that happens, I'm fronting the BFB in a similar way to that guy who took over from Freddie Mercury in Queen.
Finally (and inevitably) any future Absentee-related plans on the horizon?
Babak and I have talked about this… it's inevitable at some point but not now. I've got another record to do with The Coastguards this year, and Wet Paint are half way through album number two, but I think when we've done enough other stuff, we'll come back to it. Even if it's just an excuse to share a Travelodge room again.
Click on 'more' for the dates, people
4TH OCT SOUTHAMPTON JOINERS
0870 2643333 www.seetickets.com
5TH OCT PORTSMOUTH CELLARS
0239 2826249 www.stiffpromotions.co.uk
6TH OCT BRISTOL LOUISIANA
08713 100000 www.gigantic.com
8TH OCT CARDIFF I FOR BACH
02920 233199 www.clwb.net
9TH OCT MANCHESTER RUBY LOUNGE
0161 8321111 www.ticketline.co.uk/ piccadilly records
10TH OCT GLASGOW KING TUTS
08444 999990 www.gigsinscotland.com
11TH OCT LEEDS NATION OF SHOPKEEPERS
free gig, no tickets needed.
12TH OCT YORK DUCHESS 08700 600100
www.wegottickets.com
13TH OCT BIRMINGHAM ACADEMY 3
0844 4772000 www.ticketweb.co.uk
14TH OCT NOTTINGHAM BODEGA
08713 100 000 www.gigantic.com
20TH OCT BRIGHTON PRINCE ALBERT
01273 673311 www.concorde2.co.uk
4TH NOV LONDON LUMINAIRE
0207 3727123 www.seetickets.com/thelocal