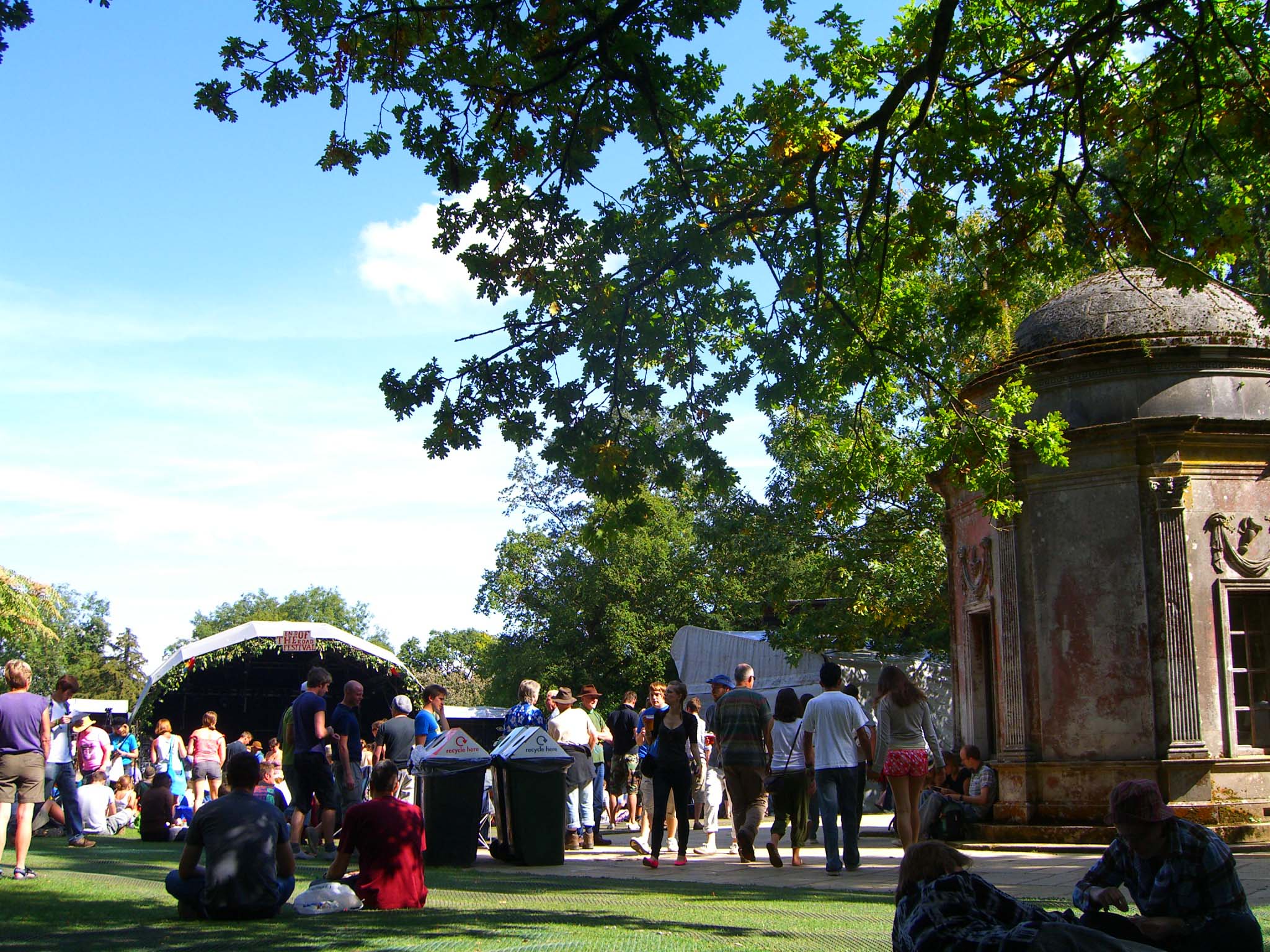 This is a review of a music festival, but it may not be be much like the other reviews you read in newspapers or other, cooler music sites. These are mainly about the bands, as the writer flits from performance to performance, trying to cram as many short reviews of different acts without being too overcrowded. Usually, if it's a good review, they'll also try to convey some of the atmosphere of the festival. In times past, I've tried to do that too. Indeed, the first year I attended End of the Road Festival, I tried to cram in as many shows as possible, and write about them at length, accompanied by photos. If that's what you're expecting, sorry.
The truth is, festivals are a very different experience as a parent. I'm not complaining though. Rather, I've embraced this status (this is the third year) as the way things are now and that's cool. So while the pre-festival forum chatter was about band clashes, not much of that was relevant to me. My clashes were more about which bands clashed with Growl Junior's meals, naps, bedtime and other family activities. Therefore much-anticipated sets from Dirty Projectors, Okkervil River, Steve Earle and Neko Case, were far less seen than heard. Thankfully the main stage sounstystem is good enough, and the lovely fairy light-lit woods are close enough so that I heard most of these sets loud and clear as I read bedtime stories to the girl in the little woodland library. We actually got to see some of Dirty Projectors - crucially Stillness is the Move, so I got to watch my favourite song of the year, the female members of the band bustin' R'n'B moves as the Growl family looked on, eating sheep's milk ice cream. I was even given a brief moment of fatherly pride as the little 'un leapt around to said song, before we carted her off to bed.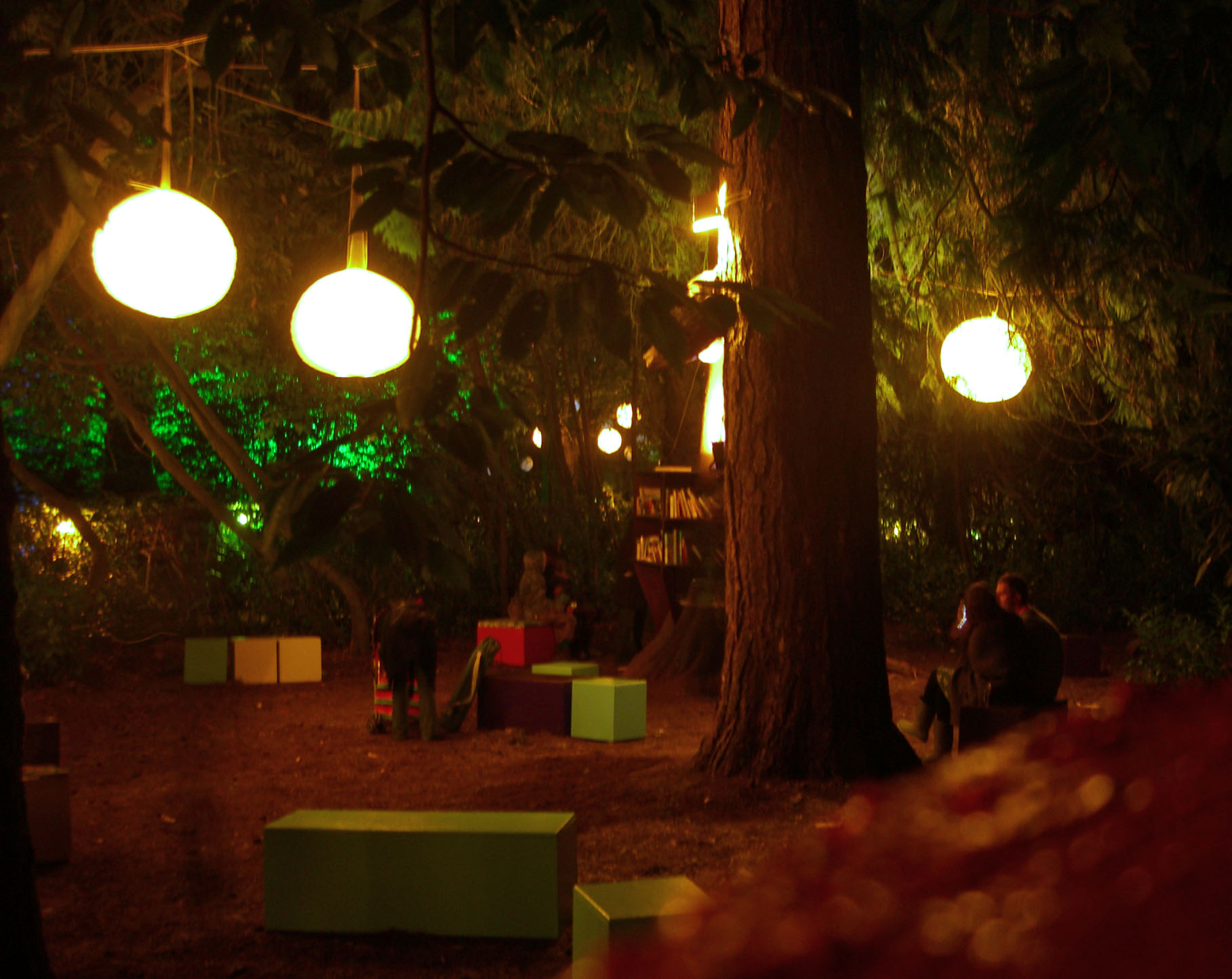 A lot of the time we mainly had to go with what was available, rather than seeking out specific performances. Late Friday saw me wandering around wondering where to settle. A glimpse of The Week That Was here (their last ever gig apparently), a snippet of Herman Dune there (I Wish That I Could See You Soon - very good) before settling in for a bit to watch Le Donk, a new Shane Meadows movie featuring Paddy Considine as the manager of an up-and-coming rapper (hilarious). Then it was over to the The Local tent for what was only one of two full sets I saw all weekend, and one that I didn't want to miss - Beth Jeans Houghton. It's good to see that she's made an effort. In a festival full of scruffy beardies, a young woman in shiny hotpants, a huge blond afro and a black feather headdress really does stand out (see more here). Shame that the height of the stage meant that only a select few got to see the full works. However, I'm sure they could appreciate the quality of her songs. A little rough around the edges perhaps, but top notch pop tunes delivered with a sense of fun, style and not really taking herself too seriously.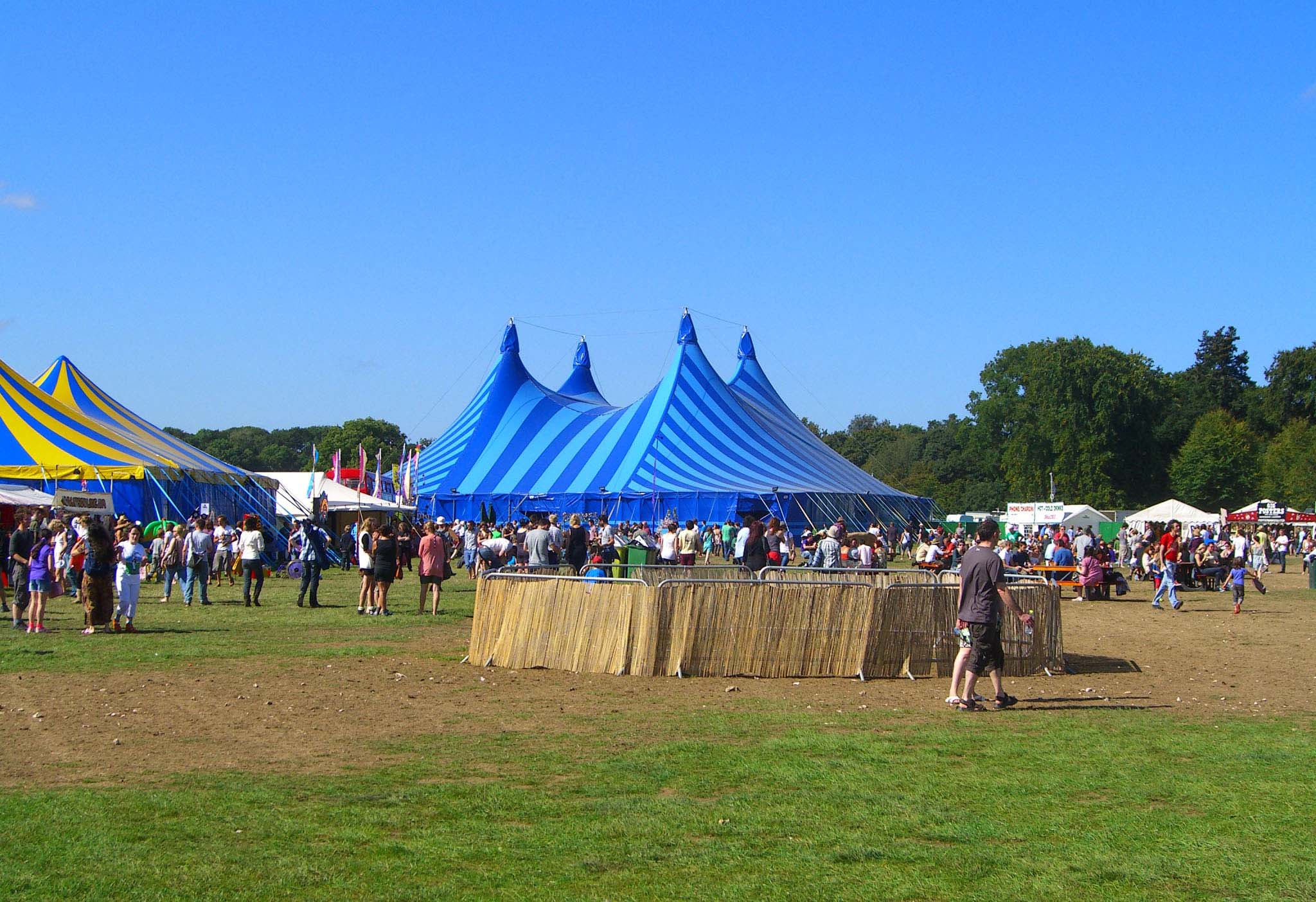 Saturday saw the kids stuff begin in earnest, so we found ourselves painting and admiring circus tricks before heading for lunch and The Leisure Society at the Garden Stage. Pies, mash and sweeping chamber folk proved to be a good combination. Later, a nice walk in the woods brought one of the greatest pleasures of the weekend - freshly baked carrot cake and tea in the gardens. Darren Hayman was doing his cult indie thing over the hedge, but it didn't seem to matter to us in our creamy cinnamon heaven.
Later that afternoon I forfeited my last ever chance to see The Broken Family Band to make masks in the 'Making Tent', but there's no regret there. Growl Jr's mask was a masterpiece of course, and it accompanied us across the field to see Dent May in the Big Top. I had this one marked down as one which the girl might like, and the primary colour melodies, tight harmonies and top-notch ukulele action did seem to be to her taste. It's hard to tell, but I'd like to think she was into it. Her parents certainly were. And when it all ended with a flying rockstar leap from atop the drum kit, he could do no wrong. The Good Feeling Music of Dent May and His Magnificent Ukulele was our soundtrack all the way home on the Monday.
There was some Fleet Foxes tag team played later that evening, with Mrs Growl getting in first (after having to wait to be counted into the Garden Stage, surely an EOTR first), and me following for the last song and the encrore. At least I got to see a fantastic rendition of Mykanos.  Saturday generally wasn't much of a live music evening. My friend Dan and I mostly spend time quaffing hot and spicy cider and soaking up the good time party vibes at the Somerset Cider Bus. We did make a foray to The Local for a short blast of The Travelling Band, and their rousing 70s west coast rock numbers did sound perfect for a late-night inebriated crowd, but the cider bus was calling us again And that's where we stayed, save for popping into the Big Top to witness one of the weekend's strangest sights - Jarvis Cocker and Richard Hawley playing records on the stage to a packed-to-bursting tent of people standing still watching them. No dancing at all. Thankfully there was some of that going on at the cider bus.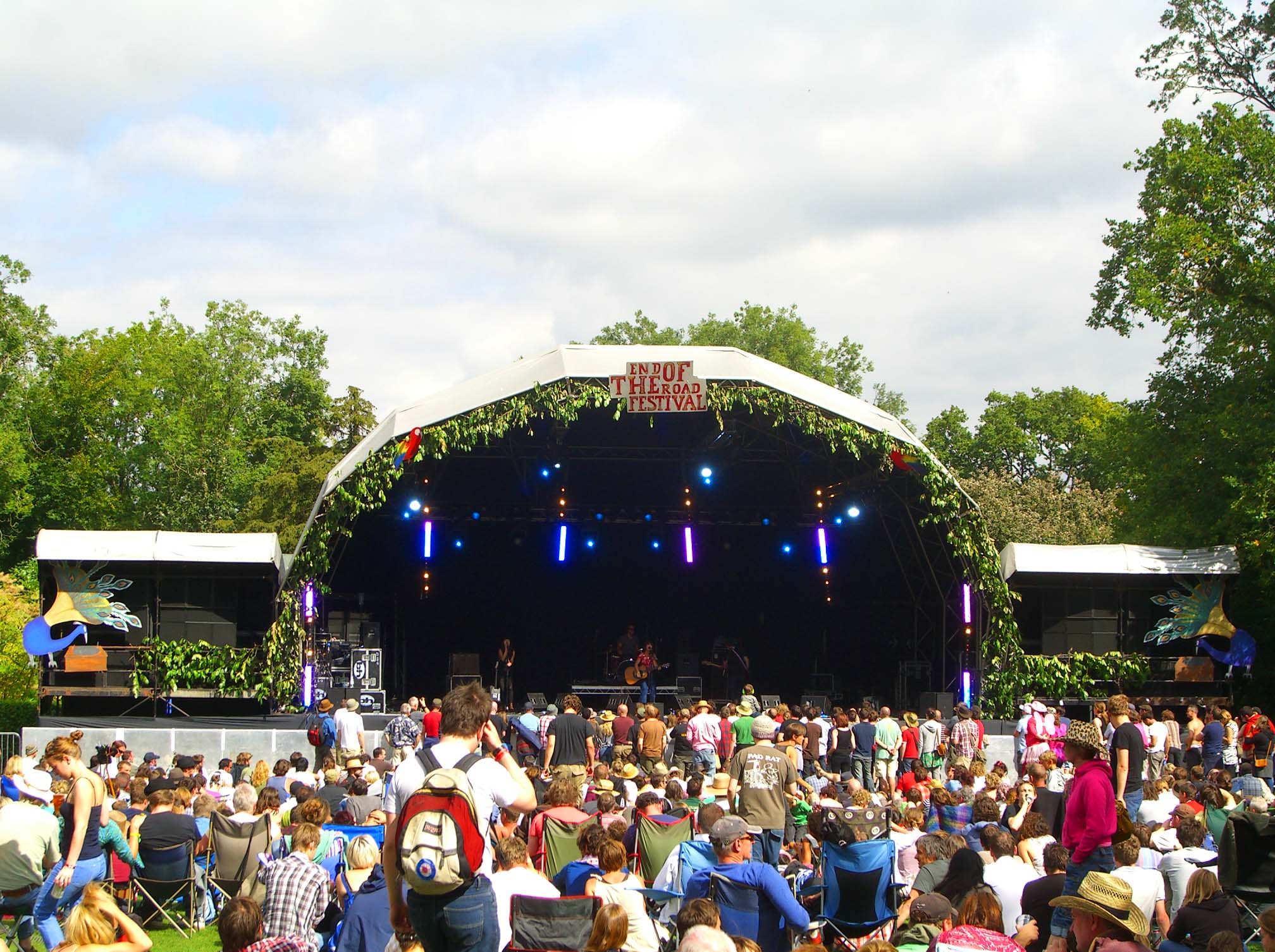 Sunday saw plenty more painting and craft action another good lunch, this time soundtracked by The Whispertown 2000, the only disappointment of the weekend. For a band signed to David Rawlings and Gillian Welch's label, I had high hopes, but they were annoyingly unremarkable. But it was a lazy day and when my lounging was interrupted by applause in the woods, it was a nice treat to come across The Leisure Society again, playing to a small crowd in a clearing. Low-key and charming, just like the band. The other surprise, shortly after that, was when, towards the end of his set, Bob Lind introduced Jarvis and Hawley who came on to back him up for a few songs. Cue much stirring from mid-afternoon naps from all around the Garden Stage.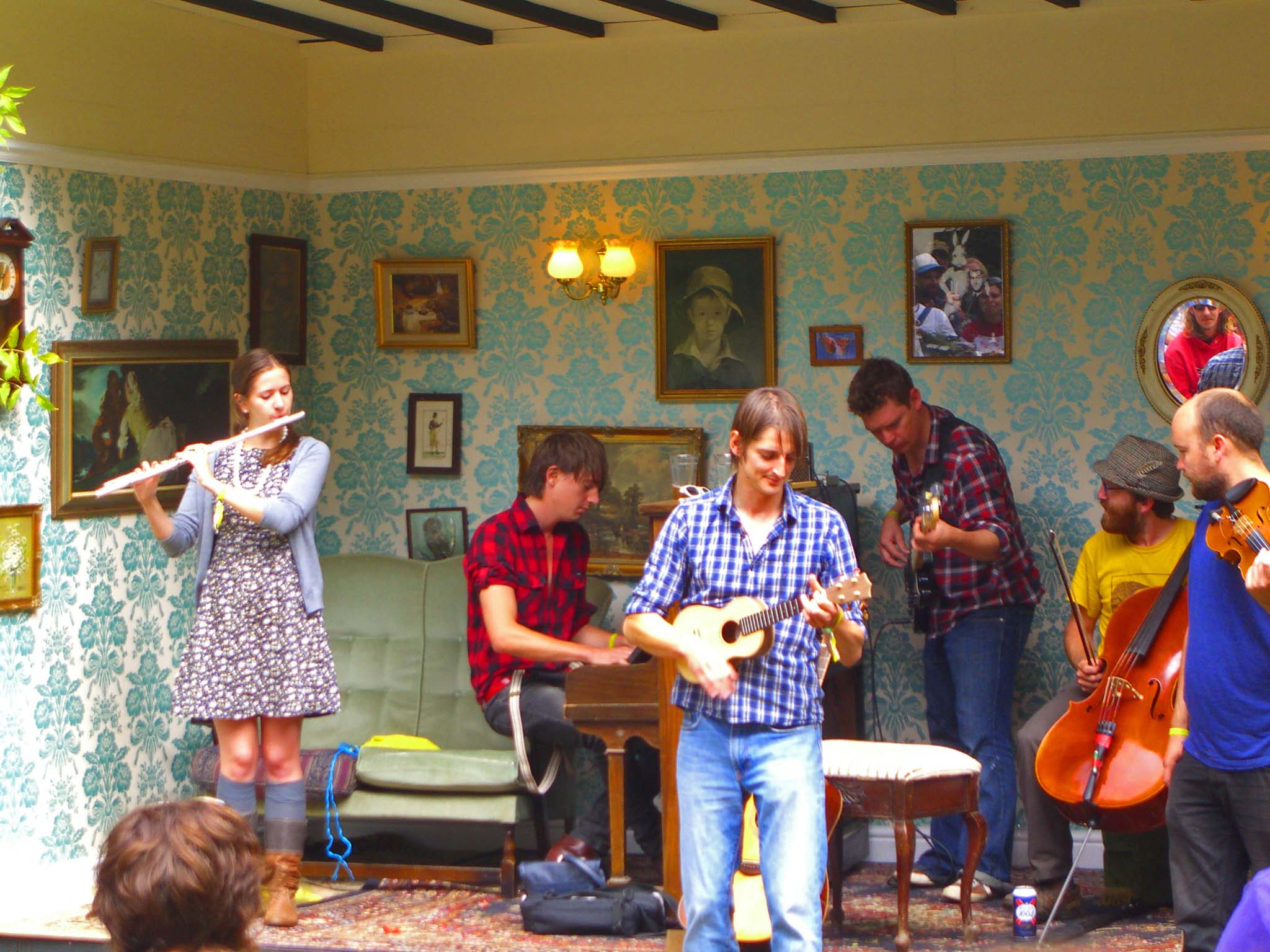 This year I was lucky. I benefited from the tiredness of the pregnant Mrs Growl and managed to get out every night. Which meant that I got to see Quack Quack. Every year I discover a band I'd never heard of before. This year's unknown pleasure was a Leeds-based crazy electro-Krautrock instrumental trio. I've since listened to their music on myspace, and it's good, but nothing like the full on lunacy of their live show. The focus is mainly on frontman Richard Morris, who ramps up the onstage madness, staring eyes, manic grins, superhuman energy as he leaps from drums to synth and back again, jumps off stage and back on again. At one point he gets The Local's Howard Monk to hold down a key while he runs around the tent. This was just one of these perfect festival moments where everything just seems to be perfectly aligned - the crowd, the band, the whole vibe.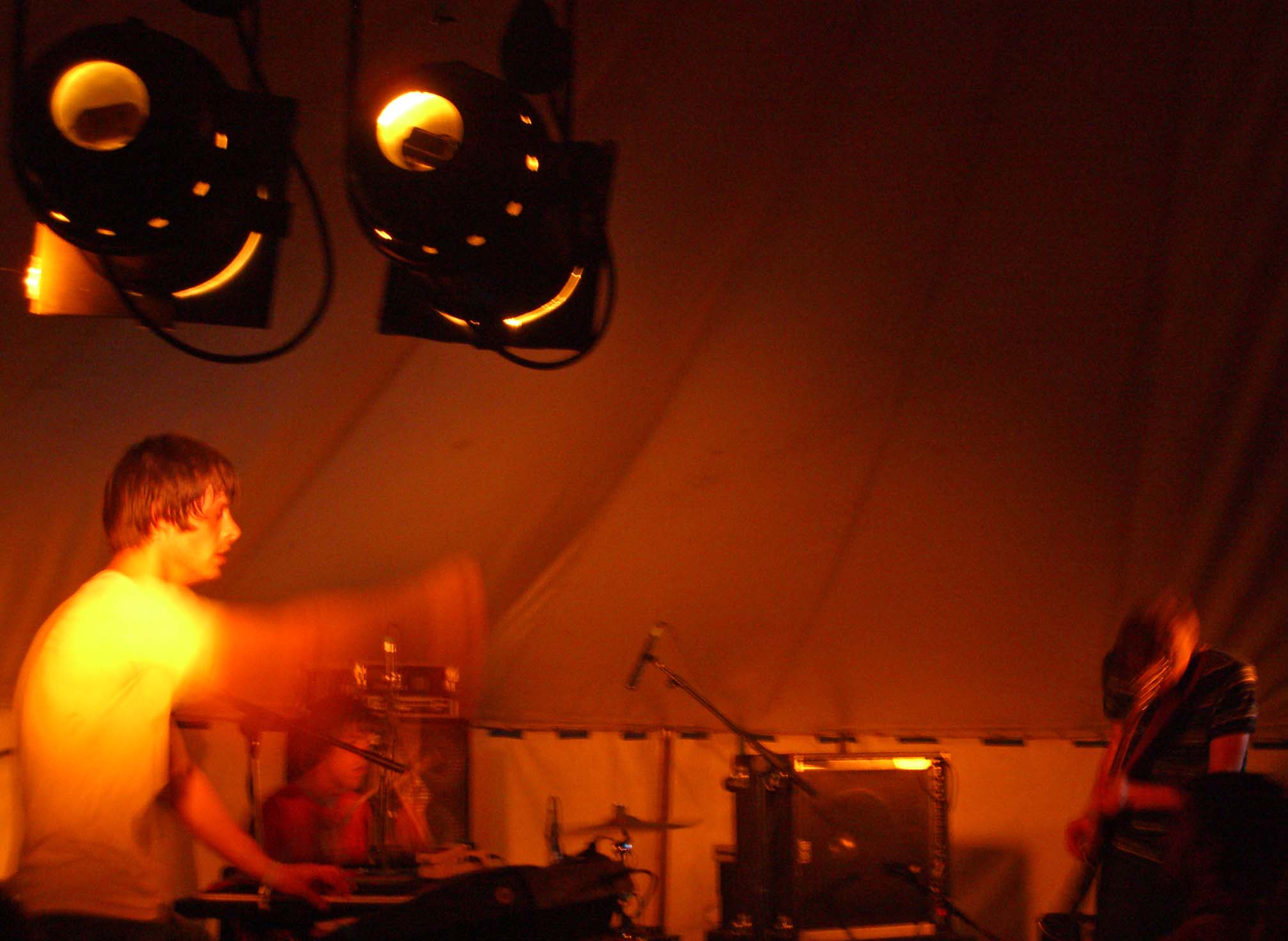 The final set of the festival (and my second full-length one) was She Keeps Bees in The Local, packed to capacity by dint of it being the only thing officially on past 11:30pm. The hot cider plus the crowd heat made it a sweaty little number and a rousing send-off to the Brookyln duo, who were on good form. Jessica Larabee was at her flaky best between songs, throwing cookies into the crowd and sounding overwhelmed by the reception. But when they play, she's focused and strong. Their short set is as good as I'd hoped for, though they probably need to work on the endings and links. The songs are short, and just as soon as they've built up an awesome momentum they end abruptly. Then it's another few minutes before another one starts again, giving the set a slightly disjointed feel. But I'm not really complaining. They were ace and a perfect end to another year in north Dorset.
The only thing that remained was hot chocalate with Dan upstairs in the old Routemaster that served as a cafe, accompanied by some cheesy old records on a rickety turntable. All in, EOTR was yet again good times, good music, good fun for all the family. We'll be back (in greater numbers) next year. Our early bird tickets have been bought already. The fact that they're now sold out already shows that plenty more people love this place as much as we do.