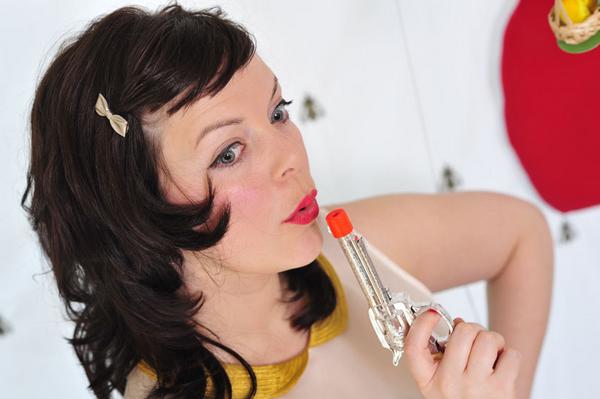 There have been a few highly anticipated returns this year, but I've not been interested in the likes of Muse and Arctic Monkeys. One of the returns that I have been looking forward to however, was Piney Gir. The Kansas girl, transplanted in London, has been through various musical incarnations in her time, moving effortlessly from an electronic debut to the full on country power of The Piney Gir Country Roadshow. I loved that last album, and it was the absence of the familiar twang which meant I took longer to appreciate The Yearling than I should. But now I'm won over. The beauty is in the simplicity of the songs. Sure, Piney and her pals crowd in instrumentation in places (and even a gospel choir on one) but it's clean lines; straight up top melodies that are on the menu here. Both melancholic and happy. Acoustic guitars on some, Casio beats on others, it's all good stuff. And since Piney seems to have a broad range of influences, what better to do than pop seven questions…
1. A song that's been in your head today
Material Girl by Madonna - today is one of those rare sunny days in London and for some reason early Madonna always pops into my head on sunny days.  I love this video because she gets to re-enact the Diamonds Are A Girl's Best Friend scene where Marilyn wears that pink dress and gets carried around on the shoulders of men in tuxedos.  Brilliant!
2.  A song you love playing live
He's A Tramp from the Disney film Lady & The Tramp - I love Disney music (especially the vintage stuff) and sometimes we do this song live.  I have been known to make a doggie sock puppet and get a volunteer up from the audience to bark like a dog during this song.  Good times!
3. The last song that made you cry
Forever Young by Bob Dylan - Because I was sheltered from secular music until 1989, I am still discovering music that is new to me and old to everyone else.  I just heard this song a couple of days ago and it made me cry.  It's pure emotion.
4. A song you wish you had written
9 to 5 by Dolly Parton - Dolly is just great, her lyrics are witty and this song is so much fun.  I think it's sort of a working woman's anthem and I wish I'd thought of it!
5. A song you think everybody should hear
Claire De Lune by Debussy - Some people shy away from classical music but this song is so lush and so pretty I think everyone would love it, from little kids to grandmothers there is something universally beautiful about this song.  I bet even Lemmy from Motorhead would like it.
6. A song off an album you are currently enjoying
Lullaby (Mountain) is a song on The Acorn's album Glory Hope Mountain that is soooo pretty, that's it, it's just such a pretty song.
7.  Tell us something about a track from your new record
Can I give you two facts?  1. Blixa Bargeld's Bicycle is based on a true story.  2. The last song on the album For The Love Of Others has a gospel choir from Kansas City singing on it.
mp3: Piney Gir - For The Love of Others
The Yearling was released this week on Hotel Records. Buy from Rough Trade.
Here's the usual Spotify playlist of the seven songs, though for the first time, between Spotify and the mp3s, we've got all the songs covered.