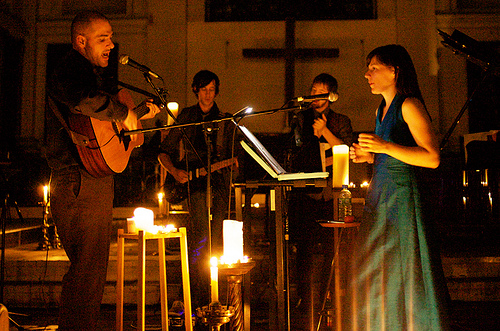 It's not every minister of religion who gets a song written for them by one of the most feted singer-songwriters around. But that's exactly what happened to the Rev Vito Auito. Vito's Ordination Song was written by his friend Sufjan Stevens for, and performed at at Vito's ordination into the Presbyterian Church. It also ended up on one of the most critically acclaimed albums of the decade.
Since then Vito and his wife Monique have made music with Sufjan (they can be found on Michigan and some of the Christmas albums) and had their own debut album as The Welcome Wagon recorded, arranged and produced by their pal. No doubt it was the Stevens connection that drew many people to that album, and also to Shoreditch Church tonight for a rare chance to see them play outside NYC.
It's the ideal setting for this kind of music. They've just played two gigs at the Greenbelt Christian arts festival, but surely their songs would have felt a little lost in a big field. In a darkened and candlelit 18th century church, it's perfect. The Welcome Wagon have three types of songs: originals by Vito, their versions of old hymns, and cover versions. All are in evidence tonight, but it's the sacred numbers that ring especially true in this place.
The band of Vito, Monique and two friends from Brooklyn on guitar and bass, are augmented by London-based musician Kerry Yong on piano, and a choir made up of members of Grace Church Hackney, who meet in Shoreditch Church. The ensemble do very well to recreate the lush arrangements on Welcome to the Welcome Wagon. Not that absolute recreation is essential, because at the heart, these timeless songs which would no doubt sound fine even if stripped right down. But the different elements here tonight blend magically together to create something even greater than the sum of their parts.
From the foot stompin', hand clappin' But For You Who Fear My Name, through to the delicate 'solo' set closer Deep Were His Wounds, and Red; from centruries-old spiritual resonance to Smiths covers, it's all spot on. Even the little stumbles are charming. After all, Vito and Monique aren't professional musicians. They don't play live like this very much. Which makes it feel even more of a privilege to be here to witness this feast for the heart and the senses. They even return for a encore of Come Thou Fount of Every Blessing, the version known and loved from the second Sufjan Christmas album. Of all the songs played tonight, for me this was the one that was most-spine tinglingly wonderful. Their famous friend's influence may be there, but tonight he wasn't needed. Vito and Monique (and their friends) are a force all of their own.
mp3: The Welcome Wagon - There is a Fountain Filled With Blood
mp3: The Welcome Wagon - Sold! To The Nice Rich Man
Buy Welcome to the Welcome Wagon from Asthmatic Kitty. There's a particularly tasty vinly version which comes with mp3s.
Gig photo from littlepants' Flickr.