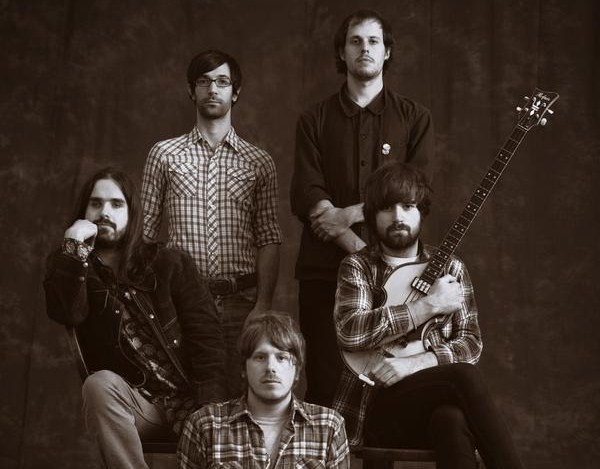 There's a clue in the name. You'd expect a band who take their name from a Stephen Stills song to be channelling a some classic 70s American rock, and you'd be right. The sepia photos and artwork only serve to confirm this. So listening to their freewheelin' Americana conjures up names like Neil Young and his other CSNY pals, Let It Bleed-era Stones, Springsteen, Laurel Canyon, and more recent stuff like My Morning Jacket. It's all enough to take me out of an office overlooking Elephant & Castle and onto one of these Midwest roads that go straight line to the horizon. When I asked the band's lead singer Reid Morrison my seven songs questions, I expected some of these names to crop up. And what do you know…?
1. A song that's been in your head today
Another Hiding Place by Arbouretum. I recently bought the new Uncut magazine and the free CD this month was new psych rock classics, this track which is track one has been on repeat on my iPod for a few days now. Track 2 is great too. Check the CD out.

2. A song you love playing live
Haunted House. As we don't do too many covers in our live sets this track has got to be the winner. Not giving too much away, but if you come to one of our live shows you will see why it is a bit of a fans' favorite. We did once do a great cover of Hungry Heart by The Boss which was great to play.
3. The last song that made you cry
Albuquerque by Neil Young – I LOVE LOVE LOVE this song, The lap steel always get's me, it's amazingly simple and beautiful. It's off Tonight's the Night.
4. A song you wish you had written
Wild Horses by the Rolling Stones. This song is so simple but so affective. The way the guitar and drums work and the way the vocal is sung on this track are insane, so much feeling in this song.  I think that's why I wish I wrote it. What a chorus too!
5. A song you think everybody should hear
Late for the Sky by Jackson Browne. This is one of his known songs but not sure a lot of people have heard this. Amazing lyrics that everyone can relate to and have at some point in there lives been in that situation.
6. A song off an album you are currently enjoying
Long, Long, Long by Jim James (My Morning Jacket) taken from his EP of covers of George Harrison songs. I have always loved this song, it's just an acoustic and vocals on this version, stripping it bare to still see how much of a good song it is
7. Tell us something about a track from your new record
Is It Worth It was written after a heavy weekend. Everything seemed out of place and nothing made sense. I met up with Sam (Beer) and in half an hour we wrote the song and it made everything feel better.
mp3: Treetop Flyers - Mountain Song
Treetop Flyers EP To Bury the Past is out on 28 September at Rough Trade East, Avalanche Records in Glasgow and online through Music Glue and Ditto.