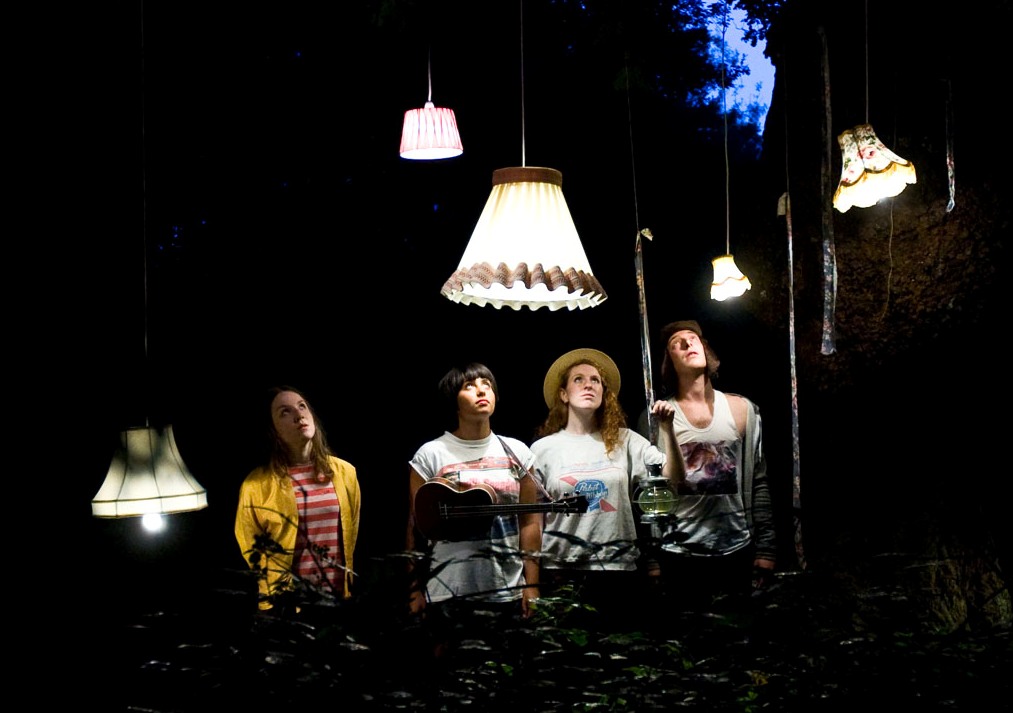 Luisa Gerstein loves cycling. I thought I was going to have to wait till next week for the answers to my seven questions because she's cycling around Europe just now. But like a true star, she found time to reply from somewhere over there. It seems that she likes to write songs on her bike too. I'm trying to work out if that makes any difference to the music of her band Lulu and the Lampshades, but I'm not sure. They're certainly nothing like that other cycling-fixated group, Kraftwerk. So no Teutonic electronic grooves; instead we have pleasingly English. ramshackle, sweet pop music, with songs about drinking wine, fantasies and old nautical handbooks. They remind me a lot of Peggy Sue, which is a good thing. Here are Luisa's seven choice tunes (or at least six tunes, and a movie).
1. A song that's been in your head today
Knife by Grizzly Bear - but the a capella one they did for La Blogotheque, I literally can't stop singing it.
2. A song you love playing live
We've got a new one called National Express which is the first we've all written together so we really like playing it, plus I get to bash a type-writer, so smiles all round.
3. The last song that made you cry
Is it bad that I can't remember crying at a song? I cry easily at films though, and I watched Central Station the other day for the billionth time.  The riff that repeats through that film always makes me cry, but then maybe that's just the film … the song certainly helps though, I challenge anyone not to cry when it comes in at the end and they're both looking at the photograph, gah!

4. A little-known song you think everybody should hear
Does it count if it's really well known on another side of the world? Toto la Momposina is a Colombian treasure, and her version of Prende La Vela is the best song to dance to I can think of.
5. A song you wish you had written
There are so many, but we'll go with Parenthesis by The Blow.  Heloise likes it because it's got a mathematical metaphor in it, and I like it because I like deli aisles.
6. A song off an album you are enjoying just now
Laughing With A Mouth Of Blood from Actor by St Vincent.
7. Tell us something about a track from your new single
Erm, the title track was written on a bicycle, most of them are.
mp3: Lulu and the Lampshades - Clown Tit Fun
Lulu and the Lampshades' new single Feet to the Sky / Rose Tint is out on 7 inch on 26 October. They support Peggy Sue at the ICA on 6 November, plus a few more London dates before then.
Some of these songs are on a Spotify playlist.