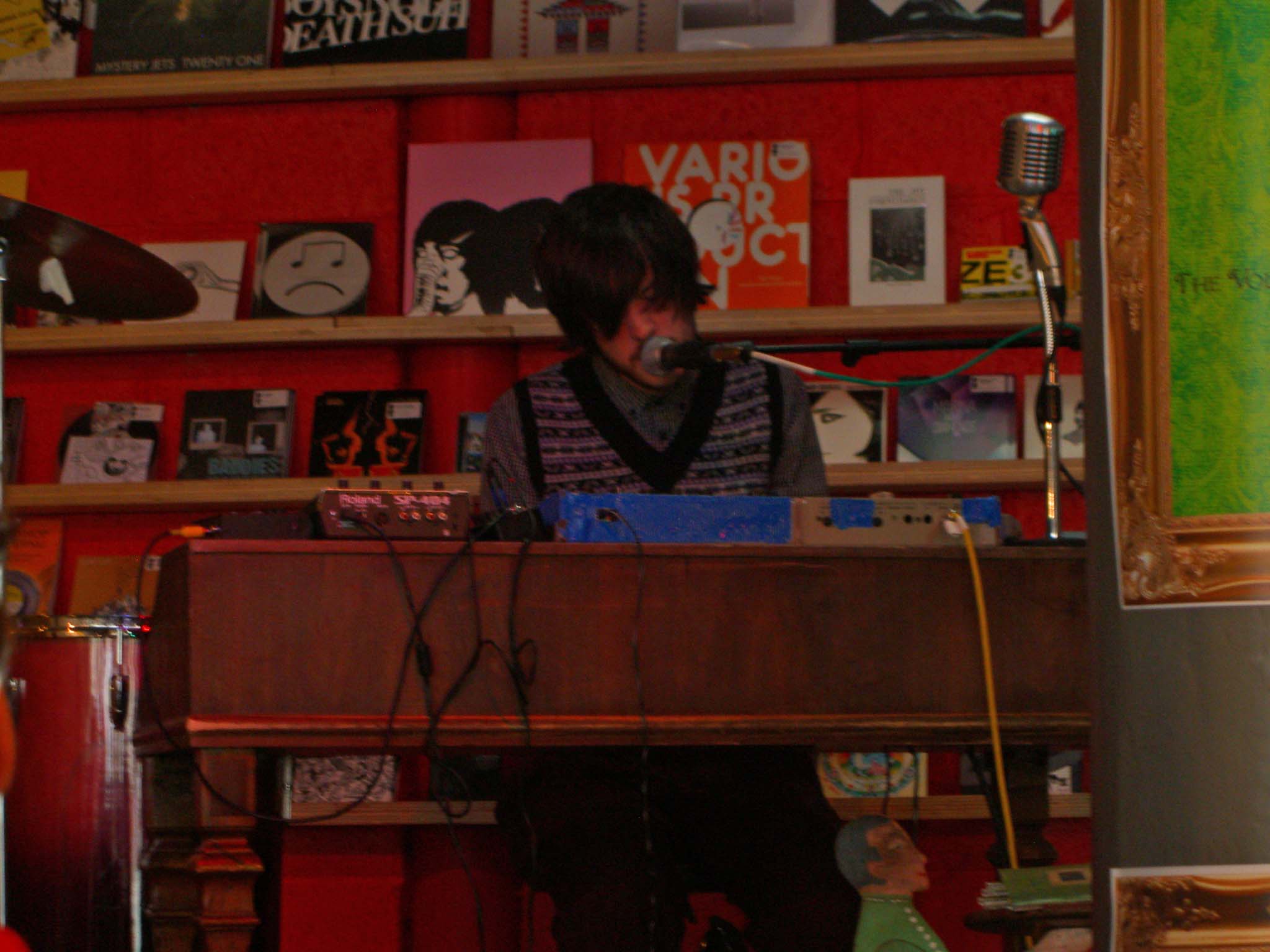 If you were releasing an album called At Breakfast, Dinner and Tea, you would do some sort of meal-releated promo for that album, right? That seems such an obvious thing to do, not only because it's a nice cheesy tie-in with the title, but also because it combines two of the best things in the world - listening to music and eating. So last week, Rob Jones, aka The Voluntary Butler Scheme headed down from the Midlands to set up camp at Pure Groove for the day, playing three gigs: a breakfast one at 10:30 (surely only breakfast time for slackers), another at lunchtime and a tea-time one at 7:30, all accompanied by appropriate free food.
I made it along to the lunch gig, where armed with free soup and bread, the small crowd settled in to enjoy a few live tunes. I didn't really know what to expect. The album is a collection of sparkly pop full of wry humour and killer hooks. Live, Rob comes across like a less errant and more pop David Thomas Broughton. This is a lot to do with the fact that it's a one-man band show which sees Rob onstage behind a vintage piano, surrounded by mics, synth, drums and guitar. He gets busy looping, building up songs from scratch, which unlike Broughton mainly seem to follow a set pattern, which is roughly: vocals - piano/synth - guitar licks, and ending up thrashing hell out of a snare and cymbal. It's all great fun, with plenty of smiles from the crowd as Rob comes up with a neat looping combo or hits us with another amusing line from his quaintly observational everyday lyrics. Some of the songs are delivered a little more conventionally (only guitar and singing shock!), but the best for me was the version of my album favourite The Eiffel Tower and the BT Tower, played on ukulele and kazoo (which nicely ties in with a lyric about singing the songs of the Pet Shop Boys on guitar and kazoo).
Lunch with The Voluntary Butler Scheme turned out to be a rare treat. I was charmed, surprised and amused, and left wondering if this man might be something of a low-key genius. Too pop for the indie crowd, a little too scruffy and shambolic for the shiny pop folks. His lyrics may be a little bit novelty, but they really should make you smile. On Tabasco Sole he sings: "Wear a De La Soul t-shirt once in a while to make you feel more hop-hop than you are" - a line so good that he's made it into a t-shirt. I bought one of course.
mp3: The Voluntary Butler Scheme - The Eiffel Tower and the BT Tower
The album At Breakfast, Lunch and Tea is out on 31 August on Split Records. Pre-order from Rough Trade.