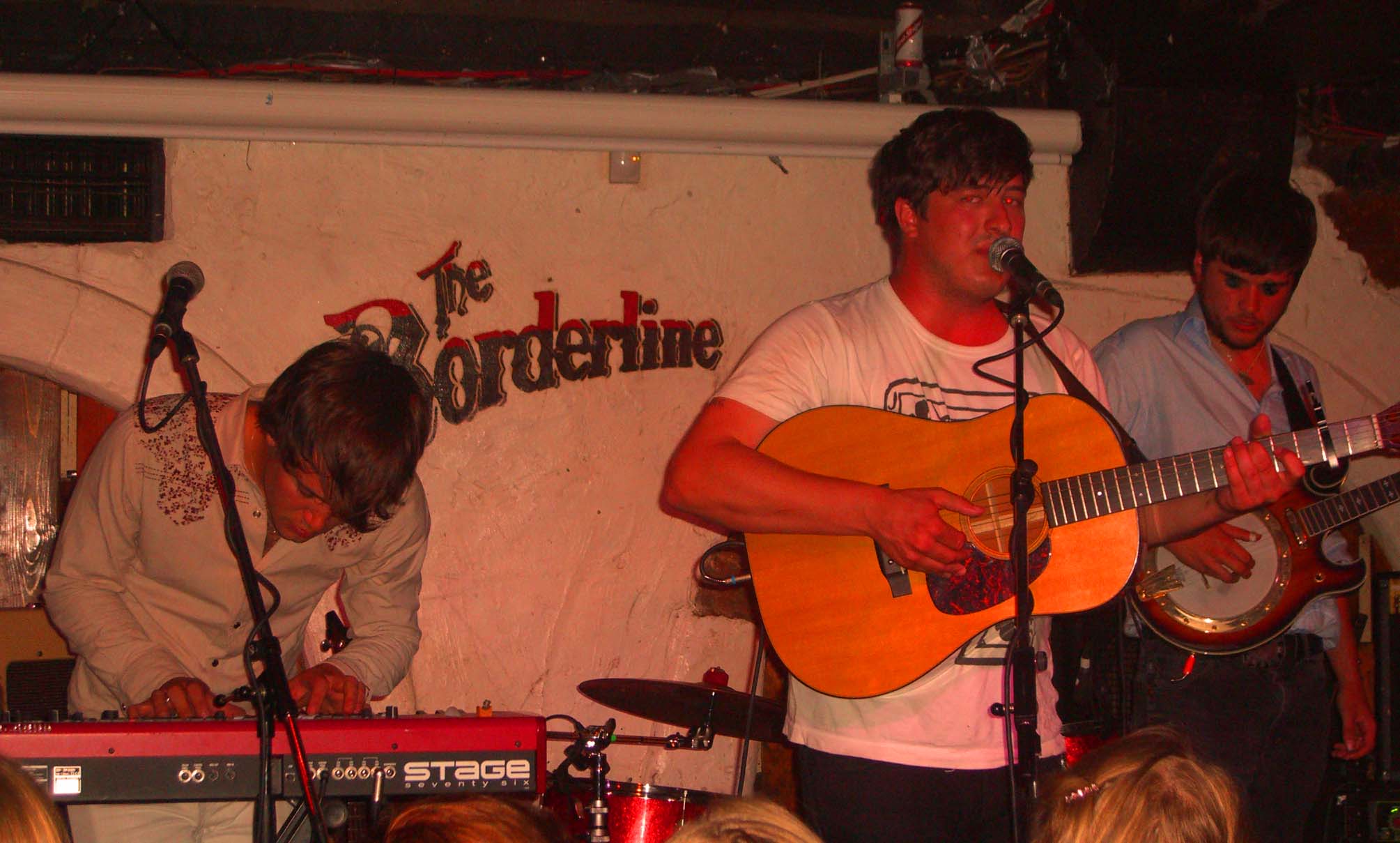 There are many signs that a band has made it. One is the presence of roadies. Since I mostly go to small-scale gigs, it's odd to see someone other than the band themselves onstage setting up. Especially at a venue the size of The Borderline. But there they are. A bloke with a fine beard and hat combo, and another, setting up the gear for Mumford & Sons.
Mind you, this band have long outgrown venues this size. They've already sold out the bigger ICA and Scala in super-quick time already this year, so this one-off show was always going to be a hot ticket. They've got a cult following for sure, this much is evident from the cheers that greet the band's every move, and the Mumford crowd reactions are the most passionate I've experienced this year. But surely Island Records will be hoping that this cult appeal will translate to mainstream crossover with the advent of the debut album Sigh No More in October.
Tonight's gig is ostensibly a launch for the new single Little Lion Man, but the planned video screening doesn't happen, and it turns out to be more of a showcase for Sigh No More. The setlist is basically the album, played in a slightly different order. And what an album! Although it's familiar, with six of the twelve songs having been released before, it's no less powerful for that. On record, the production manages to capture something of the full-on intensity of a Mumford & Sons gig, and so it should, because this is a band who are at their best on stage, in front of an receptive and up-for-it audience.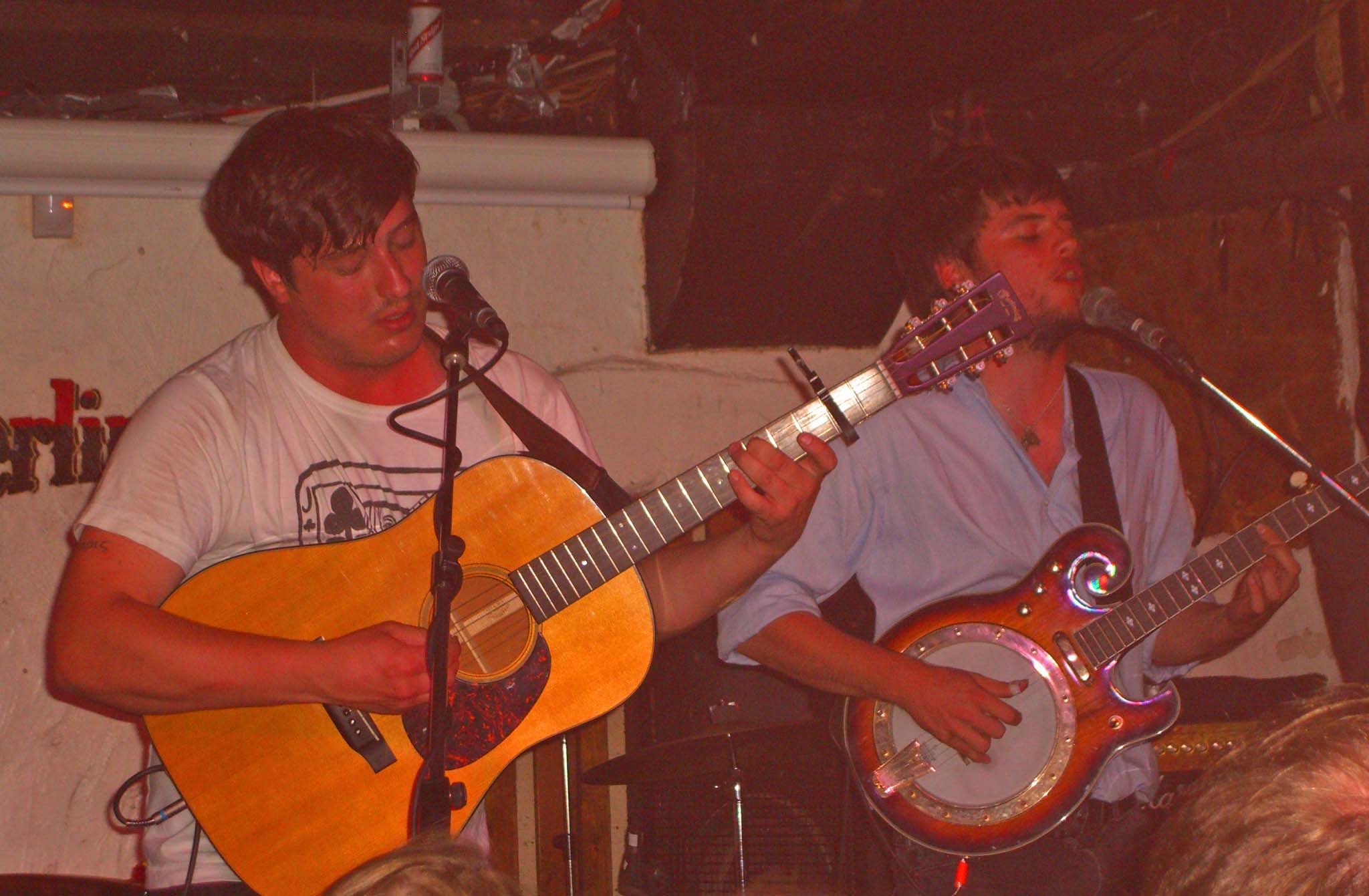 It's the old ones that are the best. It could be just be benefit of familiarity, but the band are at their most soaring when rattling through the old favourites, and naturally these are the songs that go down the best with the fans tonight. The new ones haven't quite bedded in yet, or maybe they're just not quite as good. I know most bands don't want to become one-trick ponies, but when the Marcus and the boys switch to a more conventional arrangement (electric guitar, bass, drum kit, keyboards) on Thistle & Weeds, it's their weakest moment. But back on classics like Roll Your Stone Away, with the traditional kick-drum fuelled amped-up bluegrass hoedowns, they're mind-blowingly good. However, the ragged rock-out at the end of main set closer Dust Bowl Dance shows that they can pull off electrified rock quite nicely, and Country Winston shows off the wildest shambolic rocker moves, knocking over the drums and mics in mad thrashing frenzy.
The encore comes, only half-expected on my part, with a brand new song, which blows my lukewarm reception to some of the new album tracks right out of the sweaty Borderline basement. Despite Marcus' protestations that it might be a bad idea to play such a fresh number, he proves himself marvellously wrong. And it reassures me that no matter what major label pleasure or pain awaits his band in the near future, the fact that they can keep writing songs as good as this means they'll still be brilliant and that cult following will remain as passionate as ever. But still, I expect at least two sold-out nights at Shepherds Bush Empire before the end of the year.
mp3: Mumford & Sons - Feel the Tide
Sigh No More is out on 5 October. Mumford & Sons start their national tour on 12 September.