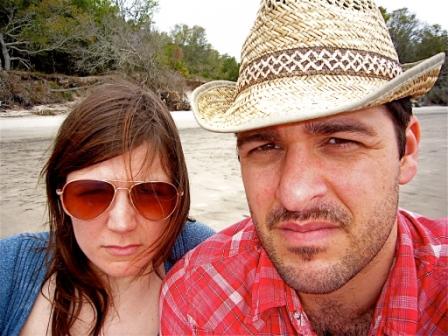 Rejoice! Brooklyn's premier Reverend and wife orchestral folk duo The Welcome Wagon are coming to London! Last year, Vito and Monique Aiuto released the awesome Welcome to the Welcome Wagon album, which was recorded, produced and arranged by their friend Sufjan Stevens. It was in my top 10 albums of last year, so natuarally, I'm excited about a very rare chance to see them play in London.
They're coming over here to perform on the main stage at the Greenbelt Christian arts festival (appropriately) this weekend, but before they jet back to NYC, they're playing a gig at Shoreditch Church (even more appropriately) on Tuesday (1 September). I've got a vested interst in this gig, not just because I love the album, but also because some of my friends are playing and forming a backing choir for Vito and Monique. So I'll definitely be there. Hope to see some of you out there too.
mp3: The Welcome Wagon - But For You Who Fear My Name
Get tickets for a measly 8 quid at wegottickets and declare your attendance here!