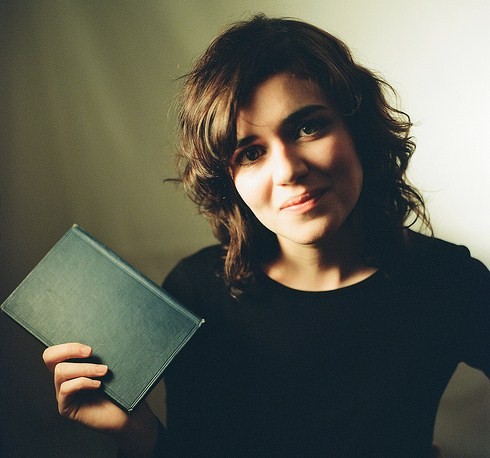 Go Away Birds are one of my happiest recent radio discoveries, a delicate and lovely little live session a few weeks ago, featuring only the beautiful voice of Catherine Ireton (also to be heard on God Help the Girl) and the gently picked acoustic guitar of Michael John McCarthy (also found strumming for Zoey Van Goey). I wrote gushingly about their two EPs so far, so the next step was obviously to ask them seven questions about seven songs. Just to show that they're a proper team, they did a joint response. Enjoy what they have to say, and if you're in Glasgow, you should get yourself down to The Captain's Rest on Wednesday for their gig. More info after the questions…
1. A song that's been in your head today
MJ: Stillness is the Move by Dirty Projectors. I was suspicious of the hype surrounding this album but I love this song. It sounds like Prince having done a post grad in West African Ethnic Musicology
2. A song you love playing live
Catherine: We recently adopted a song called Can We Skip this Song originally by Niall Connolly, really beautiful lyrics about friendship and those moments when the world seems too much for just one person to cope. We've changed it a bit and added viola, it's a great one to play live as it's so delicate its makes people go all hushed.
3.The last song that made you cry
Catherine: I'll have to answer this one as Michael John does not cry (fact) and much to his dismay I will admit that Falling Slowly by the Swell Season is one of those songs that always sets me off. I loved the film Once, this song is just about taking a chance and running with it. Very simple melody and very simple harmonies, but boy does it tug at those heart strings.
4. A song you wish you had written
MJ: Busby Berkeley Dreams by The Magnetic Fields has one of the most heartbreaking opening lines - "I should have forgotten you long ago, but you are in every song I know"
5. A song you think everybody should hear
Catherine: At the risk of sounding like a total saddo, I'm going to say Sunrise Sunset, from the musical Fiddler on the Roof. An absolute classic.
6. A song off an album you are enjoying just now
MJ: Eid Ma Clack Shaw from Sometimes I Wish We Were an Eagle by Bill Callahan.
7. Tell us something about a track from your EPs
Catherine: Safe Sad You is one of those songs that just sort of happened. MJ had this really hectic and fast train riff that wouldn't go away so we sat down and we came up with the words to three verses in about 15 minutes. Just like that. It's on our latest EP Sundays, but we think there's another 25 verses more to be recorded, so we'll have to wait till one of our next EPs for that…
mp3: Go Away Birds - Safe Sad You
Here's the poster for the Go Away Birds gig tomorrow. Go see. I would if I was back up in Glesgae.