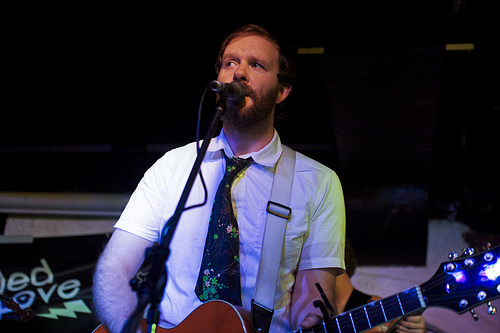 This gig was a promising triple-bill which got off to a disappointing start for me, after turning up halfway through She Keeps Bees' allotted slot to see Jessica Larrabee onstage looking like she was clearing up. Annoying, but it transpired that they had some sound problems and cut their set short.
But it wasn't too bad. Good company and cold Guinness to mitigate against the always-sweaty Borderline air meant that we really only became aware of Sons of Noel and Adrian when there seemed to be a dozen people on stage setting up. And hey, there actually were 12 people up there playing and singing their hearts out in the sprawling Brighton ensemble which suggests that Noel and Adrian were very busy men. But really, it's a Wilkommen Collective special, featuring everymen Mike Siddell and Will Calderbank who also play in The Miserable Rich and the Leisure Society, along with that latter band's leader, Nick 'Ivor Novello nominee' Hemming. Watching all 12 of them is odd and compelling; there's so much going on it's hard to keep track of it all.
Musically they're a band easier to admire than love. The quivering vocals might be an obstacle for some. I quite liked them, and was warming to the songs more as their set progressed. Their songs are complex dark folk tales, with interwoven instruments, massed group vocals and a lot of foot stamping. There's enough momentum to carry people along, and I ended up impressed, if not moved.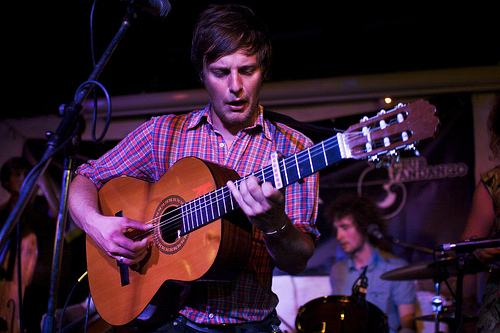 Maybe it's just me, but Woodpigeon didn't seem to be firing on all cylinders. However, there were plenty of great moments, they did seem to be enjoying themselves, and there was a decent, receptive crowd in the Borderline. Woodpigeon is essentially Mark Hamilton and a moving cast of regulars and other players, who seem to be constantly changing. This line-up was different from both last year at End of the Road Festival and even this recent Bandstand Busking session. No matter who they are though, they're a good team, with Mark as the clear leader, although the whole band songs seem a lot stronger than Mark's solo stuff. Especially when they crank it up a notch, a side of Woodpigeon I hadn't quite anticipated.
Opening song Death By Ninja, is not only one of their best songs, it has one of the best starting lines for a gig "I went to Ninja School to learn how to murder you, with just one little punch" "That's a strong start" commented a friend, while another later bemoaned that the rest of the songs (lyrically at least) didn't quite live up to that opener. Throughout the set they dipped into past classics (Home is a Romanticized Concept aired for the first time since last year's End of the Road) new songs (there seemed to be quite a few of those, or maybe I'm less familiar with Treasury Library Canada than I thought) and I'm sure there was a cover in there as well. All in then, a decent show with pleasures, old and new. Woodpigeon won't be back over here till next year now. When they do, no doubt they'll have another line-up and a fresh set of songs. That's something to look forward to.
mp3: Sons of Noel and Adrian - 30 Boys With Bats
mp3: Woodpigeon - Death By Ninja (a Love Song)
mp3: Woodpigeon & Beth Jeans Houghton - I'm Not Saying
Woodpigeon's two albums are out on End of the Road records - buy from the label. SONAA's albums are released on Shelsmusic - by from their website.
Gig photos by Anika.