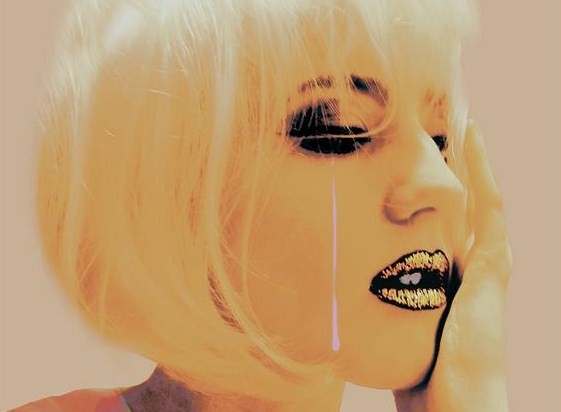 Just as I was thinking about how to describe Beth Jeans Houghton, Marc Riley said "glam folk pixie" on the radio last week, and my deliberations were over. I can't do better than that. Though don't try to deconstruct that description too much, just stick with the image. And don't go making a point about the word 'folk', because yeah, I know that although there's some nice acoustic tunery going on, she definitely has super pop-powers too. Oh yes. Killer tunes, energy, and a certain boldness that's only natural given her Newcastle roots. She rules. So with sunny pop sounds ringing in my ears, I asked her the seven usual questions. She fired back, quick and sure.
1. A song that's been in your head today
That new song by some rap guy and Amelle from the Sugababes; the one that goes "I'll be lovin' you, like it was the first time"… that one. I like that one. [it's Tinchy Stryder's Never Leave You]
2. A song you love playing live
The song off the new EP, I Will Return - we have a new bit in it where everyone gets a drum and sings over the top of it.
3. The last song to make you cry
Most of the Time by Bob Dylan
4. A song you wish you had written
Cosmic Dancer by Marc Bolan
5. Your guiltiest pleasure
Everytime we Touch by Cascada

6. A song off an album you're enjoying just now
Arbouretum by Vetiver
7. Tell us something about a track from the new EP
All of of the songs are about a guy who looks like Roger Daltry circa the deaf, dumb and blind kid days. Apart from I Will Return, which is in fact about Wilson the football floating away from Tom Hanks in Castaway.
mp3: Beth Jeans Houghton - I Will Return, I Promise
Beth Jeans Houghton's new EP Hot Toast vol. 1 is out on 19 September on Static Caravan. Pre-order from Rough Trade.
A Spotify playlist featuring some of these songs (what happened to all the Dylan albums on Spotify) is here.