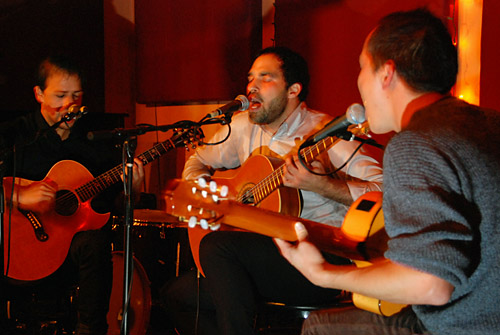 We all know that the classic British pagan horror flick The Wicker Man was disastrously remade by Neil LaBute in 2007, to almost universal disdain. Now, if the film had been properly remade in America, keeping the lo-fi creepiness of the original, surely the ideal soundtrack would be provided by Twi the Humble Feather. They'd bring their twiddly acoustic guitars and weird chanting rhythms which would provide the right level of folky spookiness to an oddball spooky movie. See them dance around the maypole! Shiver at the sinister skulls in the window! And goodness knows what they'd bring to the Britt Ekland bedroom gyration scene. It would be fun though.
mp3: Twi the Humble Feather - Finale
Twi the Humble Feather bring their folky spookiness to the UK next month, staring at The Wilmington Arms on the 10th with She Keeps Bees, then End of the Road Festival, then a whole bunch more, including a tour with David Thomas Broughton. You can buy their EP Music for Spaceships and Forests from their label, Friendly Ghost Recordings.
By the way, accoring to their myspace, 'Twi' rhymes with 'why' (not as in indiepop).