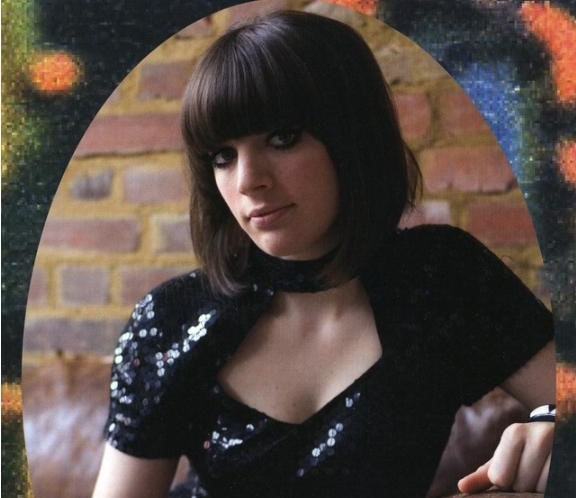 Theoretical Girl, aka Amy Turnnidge, has been around for quite a while (first appeared on this blog in February 2007, a whole life ago for me now), but has just released her debut album. Whatever took her so long, it seems to have been worth the wait. Back then I had her down as an electropop artist, but the intervening years seems to have shifted her focus towards more sophisticated pop, a lot like Saint Etienne, but with more strings. That's not a huge shift really, but it's noticeable and I think for the better. The songs glide sweetly and elegantly by, their prettiness trying to compensate for the lost love that lurks beneath. This girl's been unlucky in love, and although this isn't good for her, we've benefited in the shape of these songs. Amy says as much as she answers my usual questions, and whilst talking about seven songs, she reveals her tendency for tears and having bad songs stuck in her head, the power of Robert Palmer and makes me wonder if I should reconsider Wild Beasts.
1. A song that's been in your head today
Unfortunately, the songs that usually get stuck in my head are the worst songs in existence. At the moment, I'm plagued by the moonpig.com advert jingle. It's enough to drive anyone mad.
2. A song you love playing live
I've been practicing Thirteen by Big Star as I'm going to play it at my album launch party. It's one of those amazing songs that is very simple and to the point but utterly beautiful. My favourite kind of song and the hardest to write.
3. The last song to make you cry
I've been completely over-emotional lately! I can't seem to stop crying! At Glastonbury and at Maida Vale this year, I cried whilst playing my own songs!! Not because of the song I hasten to add, but because I couldn't believe my luck to be there.
4. A song you wish you had written
Northern Sky by Nick Drake. It's the closest anyone will ever get to the perfect song in my mind. It's stunningly beautiful, melancholy and his voice is perfect. I feel the same about most Neil Young and Tom Waits songs too.
5. Your guiltiest pleasure
Looking for Clues by Robert Palmer. I always play this if I'm ever out DJing and it always fills the dancefloor.
6. A song off an album you're enjoying just now
The Wild Beasts album has blown me away. I saw them at SXSW and they were incredible. They make such a huge sound! I particularly like an album track called We Still Got the Taste Dancing on Our Tongues. His falsetto is in fine form on this track!
7. Tell us something about a song from Divided
The majority of the tracks are about unrequited love! But one track in particular that is a little different is a song called Good Timing. It's my attempt at writing a song like Martha by Tom Waits. It's about seeing an old flame from a distance in the street and wondering about how they might be living their life.
mp3: Theoretical Girl - Good Timing
Theoretical Girl releases her new single Red Mist this week, followed by her debut album Divided on 17 August through Memphis Industries.  Pre-order from Rough Trade (with bonus CD!). The album launch is happening on the 17th at The Lexington, complete with free Pimms and strawberries and cream!
Some of these songs are in a Spotify playlist here.