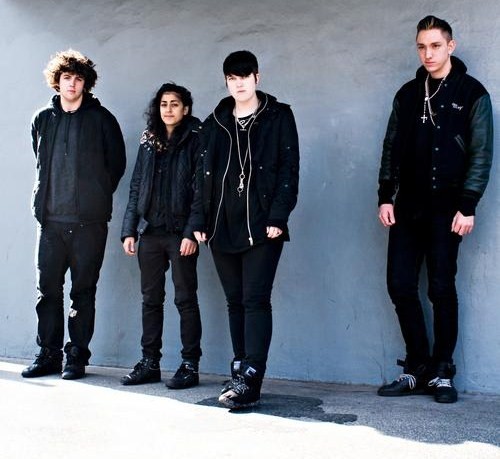 Their album hasn't even been released yet, and already there's chat about a Mercury Prize nomination next year for South West London four-piece The xx. How's that for a big up for your new record? Although such talk is cheap, if it did actually happen, it would show the Mercury judges with a rare lapse of good taste, nominating an act that is genuinely innovative, intriguing and a mile away from the dreary major label money machine acts that make up the bulk of the shortlist annually.
Also, in the pre-release chatter, much has been made by some of the fact the The xx kids (and they are, still under 20 I believe) went to the same school as Burial and Four Tet. Though that holds no indication of what their music is like, it provides a hook, another item of interest for the publicity machine. Thankfully, any hype that the band is generating is totally deserved. Because the results are there to see and they've got pretty much near top marks.
It's a super-lean, prime cut feast of a record. Here are a band that take their infliences (I'm guessing R 'n' B and new wavey guitar stuff figure) and strip out everything extraneous, leaving only the most basic, most crucial elements.  The production duties were handled by the band's own Jamie Smith, and it's a triumph. Sleek, focused, minimalist, with a great sense of space. There's slow burning bass, simple and often beautiful guitar lines, crisp, precise beats and plenty of reverb. All topped off by a languid vocal interplay between Romy Madley Croft and Oliver Sim. This is an album that's all about the SOUND. There's a superbly haunting atmosphere about almost every song, and they're guaranteed to feature in dark parts or endings of several TV shows of films over the next few years.
There are many elements on this album that will sound familiar to many listeners (for instance, surely I'm not the only one to notice hints of Chris Isaak's Wicked Game in Infinity), but that's not to say that The xx sound like anyone else around at the moment, because they don't. A genuinely refreshing new album. Maybe I should put a bet on for them next year. I reckon it's a cert.
mp3: The xx - Crystalised
mp3: The xx - Infinity
xx is out next week on XL records. Pre-order from Rough Trade.