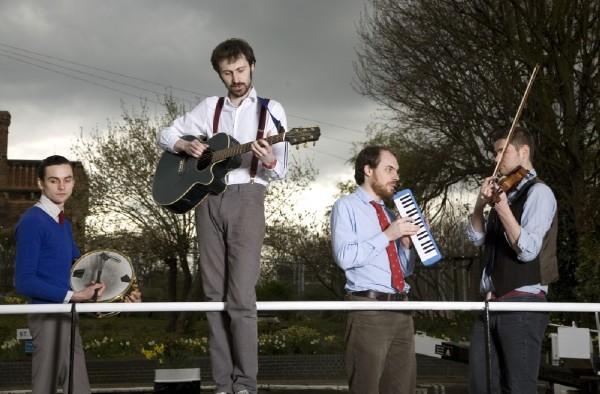 Left With Pictures have revived one of their old songs and re-recorded it as their new single. They've obviously had an eye on the seasons though, because here's a song arriving slap bang in the middle of August, which couldn't say 'summer' more if it came with a free pair of sunglasses, aftersun and one of these little cocktail umbrella thingies.
Like a proper summer song, it's got a jaunty piano line, a breezy, catchy tune, sweet haromies and 'bah bahs' rolling round in the background. It's even got a quaint little synth-led outro. But LWP are a very British band, so they know that there's more to summer than all things sunny. So listen closer and pick up things from the lyrics. Stuff about sheltering from reality, secrets parents should never know, keeping up double standards 'like a new Stonehenge', and even something about liquidising the crystals in glass pipes. What's going on here? Even if it's not quite as dark as I'd like to think it is, there's clearly something uneasy at the heart of this song, and no dressing up with sweetness is going take that away. It's this combination of sunshine and drizzle that make 1, 2, 3 Go! the perfect British summer record.
mp3: Left With Pictures - 1, 2, 3, Go!
The good news is that this single is released ahead of the band's debut album Beyond Our Means, which is due out in September. More info from their label Organ Grinder records.