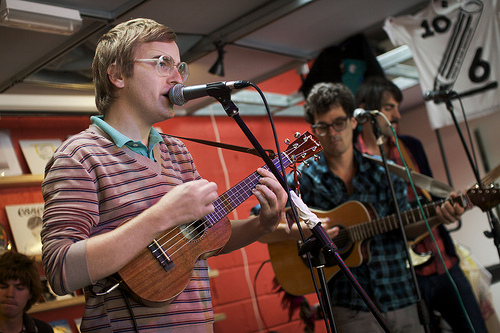 This week got off to a good start. Monday lunchtime rolled round and it was time to pop off to Pure Groove for a lunchtime set by Dent May, accompanied by His Magnificent Ukulele and his band, who are pretty magnificent too, in their own way. About 20 people were gathered, over coffees and drinks to watch the large-spectacled wonder kid from Mississippi give us a short set of his uke-powered, bright primary-coloured melodies, falsetto harmonies and big singalong choruses. All very good stuff. Of course, a small crowd on a Monday lunchtime isn't going to be dancing on the tables (surely the most appropriate response), but as Dent knows all too well, You Can't Force a Dance Party. But still, I'm sure at the Brixton Windmill that night the audience were jigging around a little more. In a nice piece of synchronicity, the next day I received his answers to my seven questions. Here they are.
1. A song that's been in your head today
I've had that J Dilla song Lightworks stuck in my head all day. It samples Raymond Scott, another one of my favorites. I catch my self singing, "the name of the game is lightworks" out loud and strangers look at me funny.
2. A song you currently love playing live
We just started covering You're So Good To Me by The Beach Boys. It's fun to sing and fairly consistently brings the party vibes. One person asked me why I chose to cover the only Beach Boys song where they sing "la la la." Not sure if that's true, but I thought it was a really weird question.
3. The last song to make you cry
Luther Vandross's epic slow jam A House Is Not A Home hits a nerve, especially since I'm away from home and will be for a while. I don't even have a home, actually. I moved all my stuff into storage before I went on tour.
4. A song you wish you had written
I wish I wrote That's The Way Of The World by Earth, Wind, and Fire. I'm a big fan of their attitude of positivity, and I also wish I had designed all of their mystical and amazing album covers.
5. A song you think everybody should hear
My friend and roommate and former bass player Konrad Bevilaqua has a project called Flight that I wholeheartedly recommend. It's fuzzy garage pop type stuff. There's a track called Flowers that's floating around in mp3 form. Seek it out!
6. A song off an album you're currently enjoying
S.E. Rogie's Palm Wine Guitar Music album has been on repeat since I discovered it on the bus with Animal Collective earlier this year. My favorite song is I Wish I Was A Cowboy. There's something about this dude from Sierra Lone singing about wanting to be a cowboy with all these ladies around him that is beautiful. He has great outfits too.
7. Tell us something about a track from your latest album
A lot of people ask me the story behind God Loves You, Michael Chang. I was actually at a black tie charity party with my family, and one of the items at the silent auction was a tennis shirt once worn by Chang in some important match. It was signed, "God Loves You, Michael Chang." I got the shirt, and the phrase stuck with me.
mp3: Dent May & His Magnificent Ukulele - God Loves You, Michael Chang
mp3: Flight - Flowers
Some more of Dent's Seven Songs are in this Spotify playlist.
Dent's album The Good Feeling Music of Dent May & His Magnificent Ukulele is out now on Paw Tracks. Buy from Rough Trade or download from emusic.
Dent May and band at Pure Groove photo by Anika.