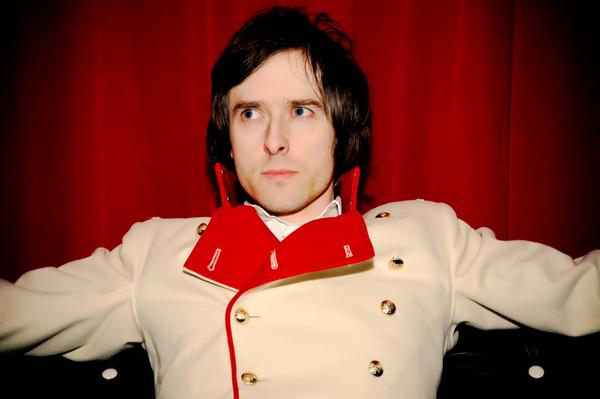 In a line of direct continuation from my last post, here's another solo album from a former member of a late 90s/ early 00s Scottish band that I have been hugely enjoying of late. Following on from his mates Malcolm Middleton and Aidan Moffat, we now have former Delgado Alum Woodward. His former band split in 2005, and since then Emma Pollock has established a solo career, Paul Savage has played house-husband for Emma, whilst keeping his hand in with the band's Chem19 studios. Indeed, he crops up playing drums here  on Woodward's debut album as Lord Cut-Glass.
Three things to say (I'm in full day job mode at the moment) about this self-titled debut.
1. It's not exactly been very prominent. I'm not sure if this is a problem with the UK PR, or just the fickle music press not bothering with an oldster like Alun in favour of bright young things like er, the Mercury Prize nominees (hey, it's the year of the girl, folks!), but the first I heard about this venture was in an email from an American PR company. All the best to them - hopefully the record will make more of an impact over there, but on this side of the Atlantic, the press has been largely Lord Cut-Glass feature and review-free. Shame.
2. For someone who's taken their name from Dylan Thomas' Under Milk Wood, has an album cover depicting a 19th century cavalry charge, and has appeared in photshoots dressed as some sort of military officer from the same period, you'd be expecting some sort of grandiosity about the music. And sure enough, it's there. So much so that it startled me. The record is chock-full of sweeping strings, parping brass, sweet harmonies and lilting piano. It's all quite lush, even the quieter ballads aren't exactly stripped down affairs. It doesn't always hit the mark but you can't fault the man's ambition. In a way, it's a continuation from The Delgados' grander moments (Hate, The Great Eastern), but with more a pop sensibility. Songs like Look After Your Wife rattle along at a pace that you'd be justified in calling jaunty. Now that really is a progression.
3. Given that Alun is friend and regular collaborator of Aidan Mofffat's it's perhaps no surprise that they shame similar lyrical themes. Sure, the Lord doesn't quite have his pal's lyrical flair and his songs aren't quite so focused on the seedy underbelly, but there's plenty of bitterness, lost love and relationships gone wrong on display underneath the orchestration. On album opener Even Jesus Couldn't Love You (the clue's in the title) has Woodward spitting spitefulness as the strings glide and military drumming picks up pace. And in doing that pretty much sets the pattern for the rest of the album. It's a terrific record, which deserves much more praise than it has got. But still, maybe that'll keep Alun's misanthropic tendencies sharp enough to give us a cracking follow-up.
mp3: Lord Cut-Glass - Even Jesus Couldn't Love You
mp3: Lord Cut-Glass - You Know
Buy Lord Cut-Glass CD, LP or download from the Chemikal Underground Shop.