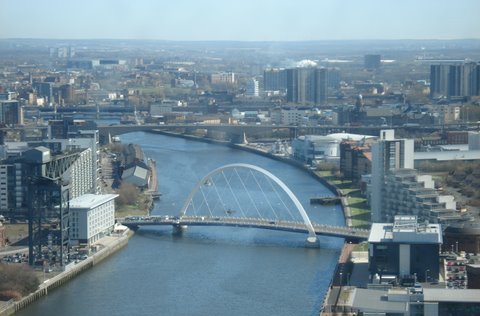 Glasgow has always had a thriving music scene, usually happily doing its own thing without caring too much about trends in London and the rest of the country. In the mid-90s when Britain was going gaga for Britpop, new bands in Glasgow were trying to be Pavement and Dinosaur Jr. It's fair to say that when Franz Ferdinand started doing thir poppy post-punk thing, not many other bands were. And although Belle & Sebastian had their antecedents, they're still the touchstone for orchestral indiepop. Even today, have a look at some of the current crop of bands from Glasgow - The Twilight Sad, We Were Promised Jetpacks, Dananananackroyd, The Phantom Band, Over the Wall or whoever, there's little evidence of East London-style vogueishness. And where else in the world would you get young guys in cars pumping out 90s happy hardcore with thuggish glee? Like I said, Glasgow does its own thing.
So here we have another Glasgow thing that's unlikely to spread nationwide. Mind you, it's hardly a trend, just something I've noticed - A couple of Glasgow bands with far more than the regular number of members. They're not even 'proper' bands either, as we'll see.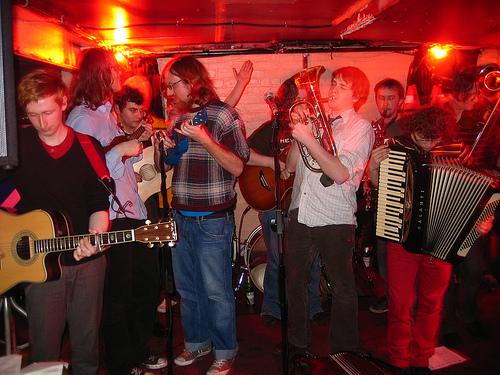 I'll start with the smaller of the outfits. The Second Hand Marching Band is a supergroup of sorts, with anything from 16 to 22 members moonlighting from the likes of House Mouse, Lula Maes, Dananananaykroyd, How to Swim, Eagleowl, Q without U, The Martial Arts, Brighter Better Days, The Just Joans and Tangles. They play a rolling sort of gypsy folk, complete with multiple accordions, violins, flutes, brass, massed vocals, military drumming and stomping. It's a riot of fun, even on their quieter numbers. I'm not sure who holds the reins on the SHMB, but despite the potential chaos of so many people coming together and tossing instruments and ideas into a big pot, there's a clarity of songwriting here, which shows that having a good time side-project doesn't need to mean sloppy. Their songs kick the ass of many full-time bands.
Some people may utter words like 'Beirut', but come on, this is a fairly universal kind of European folk music. When you get a big group of musicians together with a bunch of instruments like those mentioned above, you'll inevitably get a glorious cacophony that sounds a lot like this one. Similarly to the music that's always present in the films of Emir Kusturica, this is participatory stuff. Songs to drink and dance to. No doubt best experienced live, but on my computer today, it still sounds mighty fine.
mp3: The Second Hand Marching Band - A Dance to Half Death
mp3: The Second Hand Marching Band - We Walk in the Room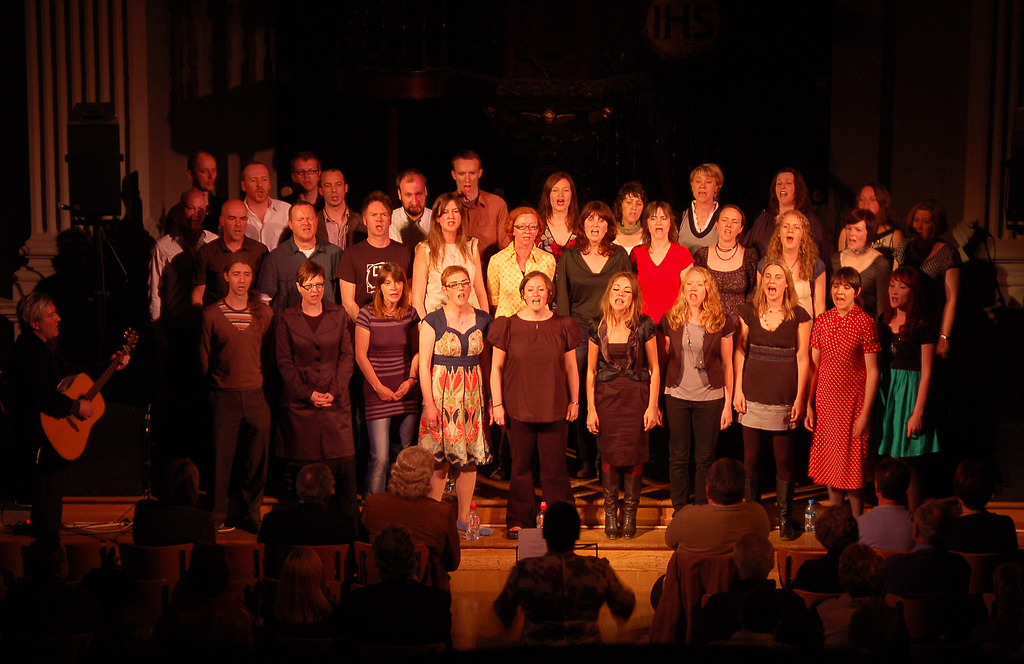 The other group numbers closer to 40, and is really a choir, called The Parsonage. It's led by one Janis F Murray, and given that they're named after the Grievous Angel, it's no surprise that the assembled masses specialise in classic songs from America's rich musical past. Their myspace currently boasts a fine choral version of Great Balls of Fire and their only release so far (and EP on Optimo's Oscarr label), has covers of  Please Help Me I'm Falling and 900 miles. And naturally, their latest project is an album of covers of songs by Hank Williams and Parsons himself.
They're a versatile lot though, and are perfectly able to turn their talents away from the classic American Songbook. The EP covers The Go-Gos and Fun Boy Three's Our Lips are Sealed, Jefferson Airplane's White Rabbit and adds to the the rapidly growing pile of Love Will Tear Us Apart versions. Away from their own material, they've done turns as backing singers for Rod Stewart and helped out with the recording of the new Echo and the Bunnymen album.
The music is pretty much as you'd expect. A large choir singing other people's songs. If you don't like that idea, then it's probably not for you. But if like me, you're into large groups of people singing in harmony, then it might be just the ticket. Again, The Parsonage are probably best experienced live, but without any tour dates (and given the potential logistics, that's unlikely to happen any time soon) these EP tracks will do for now. And with the debut album promising to be a more high fidelity affair, there's a lot to look forward to.
mp3: The Parsonage - Our Lips Are Sealed
mp3: The Parsonage - Please Help Me, I'm Falling
Buy The Parsonage's This Ain't No Lovey Dovey EP from Resonance Store. The SHMB's A Dance to Half Death EP is sold out, but should (hopefully) be appearing as a download soon. In the meantime, hurry and grab some mp3 via The Hype Machine or get a couple of free downloads at last.fm.
PS. sorry for the tourist board's eye view of Glasgow. A picture of a ned smoking a joint wasn't readily available. Also, I should note that I plundered the Dance to Half Death mp3 from Are You Gene Hackman?