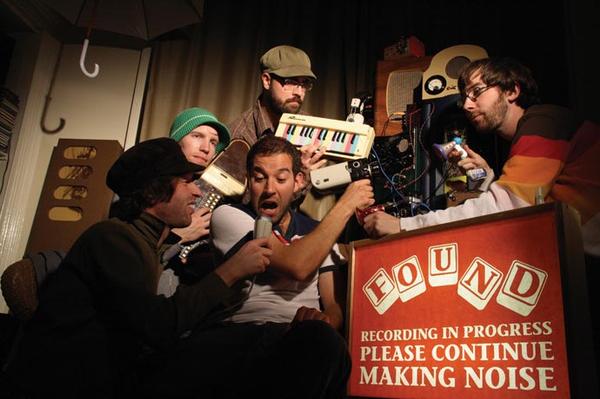 FOUND are a band that I've neglected up until now. Despite the fact that they're on the ever-excellent Fence Records, and despite Matthew regularly raving about them, I've never really given them any time. Not even, shamefully, when they put out their Snarebrained compilation to fund their trip to SXSW in March. So it's time to play catch-up. Fortuitously, an opportunity presented itself right in the middle of my 'Scottish week', with their live performance on Marc Riley's BBC 6 Music show last night. So here are the four tracks that FOUND played, my first proper introduction to the band, and a pretty decent one at that.
Today has seen me plugged into the band's last.fm page, which is the place to go for anyone wanting to check them out - it seems like all of their tracks are there to stream. So go to it people, and sample the oddball DIY folky electro-pop treats that Ziggy Campbell, Tommy Perman, Kev Sim, Alan Stockdale, Gav Sutherland have conjured up over two albums and several singles. All this and no bad jokes about how I've found a good new band. Oh, and three of the four tracks that they played last night are brand new, unreleased types. So, an exclusive of sorts.
mp3: FOUND - Anti-Climb Paint (live on BBC 6 Music)
mp3: FOUND - You're No Vincent Gallo (live on BBC 6 Music)
mp3: FOUND - Blackette (live on BBC 6 Music)
mp3: FOUND - Alsation Gull Scene (live on BBC 6 Music)
Buy FOUND records from the Fence shop.  Their latest album This Mess We Kept Re-Shaping is sold out, but you can download a 128kbps version from their website. Ideal for all those people who aren't that bothered about high fidelity. Speaking of which, you can name your own price, Radiohead-style for mp3s from their latest release, the Fidelities EP, from the band's website.
And I can't finish this post without mentioning the band's latest project, a sort of musical box of tricks, currently on display in a gallery as part of the Edinburgh festival. Read Matthew's post for some enthusiasm about it, or go straight to the Cybraphon website, and be impressed.