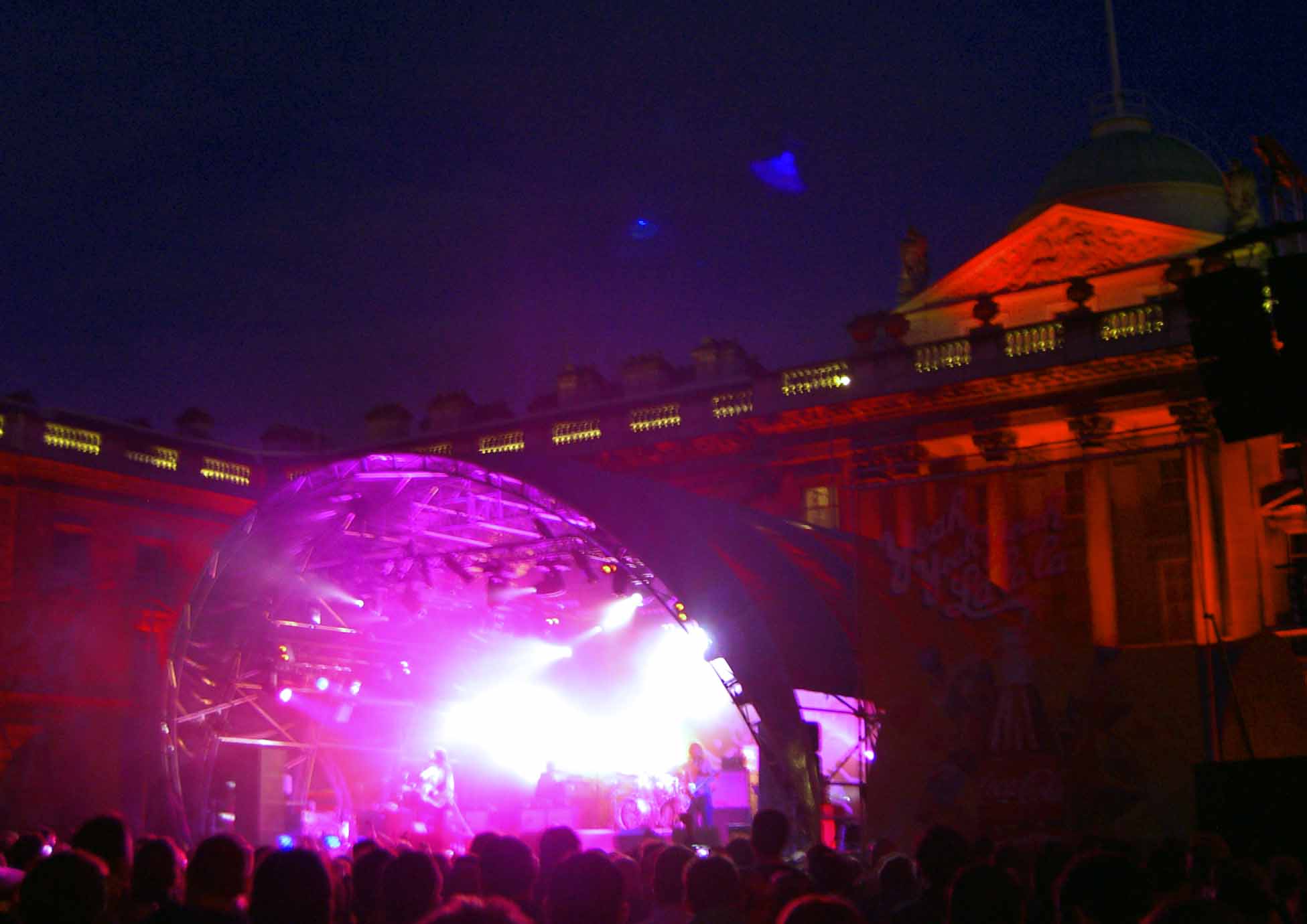 There were a few things missing from the Super Furry Animals gig at Somerset House on Saturday. The first and most obvious one for me was Mrs Growl. This was notable, because in all the many, many times I've seen the Super Furries in the past 12 years, the constant factor was the woman who is now my wife. She had already seen them several times before we met, and as we bonded over a shared love of music, SFA were one of the bands we loved (and still love) the most. A combination of other social engagements and illness meant I went on my own. It felt odd.
There's also less stuff happening at their gigs these days. Gone are the silly outfits of old. No shiny boiler suits, yeti costumes, giant alien creatures, or any of the other wearable gimmicks of the past. It's been a while since we've seen the centurions coming on the play the trumpet part of Demons. And where are the video shows, or the big screens that accompanied the gig the last time we saw them at this venue. Things are a bit more stripped down these days. Gruff's props are a bit more rudimentary, limited to some large cardboard placards bearing words like 'Applause' and 'Thank You'. At least we knew that the gig was over when the one with 'The End' was placed in front of the drum kit.
I think there may have been a few people missing too. The Somerset House courtyard was fairly full, but the gig didn't sell out. Last time I was here, around the release of Love Kraft, tickets disappeared pretty sharpish, but not anymore. I'm not saying that SFA are in decline, but they're not as big as they were. However if this means they'll be playing smaller venues soon, that's fine by me. As I stood near the back, trying to avoid the busy thoroughfares to the bar and the loos, and the idle chatter, the alfresco loveliness of Somerset House couldn't quite compensate for that feeling of dissatisfaction that you get at big gigs. You pay more money for a worse experience. Why would anyone want to do that?
The crowd seemed to be missing some passion too. After the band's exit, most people hung around to see if the band would re-appear, even although the Furries never do encores. But if the band were relying on audience noise to entice them back on stage, they should have been running away from the venue. Rarely have so many people made such a half-assed attempt at showing enthusiasm. But I'm not knocking them. I wasn't cheering either, after an underwhelming experience, probably the first time I've left a SFA gig with a shrug rather than a smile. Maybe it was the frame of mind I was in. Maybe it was the above factors. Maybe it was my general apathy towards Dark Days/ Light Years (which naturally made up most of the set). Maybe all these and more. I'm not really sure, but I didn't really enter into the spirit of things till near the end, and then it was too late.
After hearing the new songs live, I remain agnostic. Pric sounded pretty good, all rumbling bass and spacey rocking, but most of the rest, despite a lot of riffing by a band that seemed to be enjoying themselves, just didn't do very much for me. Even the oldies seemed a little flat, only serving to remind of past glories. However, there were some good back catalogue selections, and even some surprises. For quite a while now, I've been hoping for a new gig-closing trick. The extended techno versions of The Man Don't Give a Fuck got a bit tiresome a few years back, so it was a pleasant surprise to see the shortest, most guitar-abusing version of the song I've ever seen. Of course this suits the current hirsute and rockin' Furries, and they gave it their best shot. No sooner than the shock of the abrupt ending passed, another one came. They had chosen to close on Keep the Cosmic Trigger Happy, the final track from 1999's Guerilla, which I'd never heard them do live before. That was almost enough to rescue the gig for me.
It's not like I'm about to fall out of love with the five Welsh wonders any time soon. In another time, under different circumstances, in a better venue, with a better current album, I'll no doubt thrill to them again. But at the end of this gig, under the darkened cloudy summer evening, it was a little hmmmm and off to the tube home.
mp3: Super Furry Animals - God! Show Me Magic
mp3: Super Furry Animals - Demons
I've actually had just as much pleasure listening to the gig's setlist on Spotify this week. It's here for your listening pleasure.