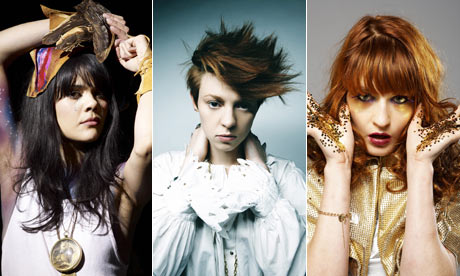 Ah, the Mercury prize. Every year, providing the opportunity for music fans to complain about how it's a bad representation of British music, because it doesn't contain X, Y and Z albums - and what's that one doing on there? It's crap. And so on.
This year, as with every year, the list contains albums I like, some I don't and some I don't care about. There's no point complaining about the shortlist, but naturally  I reserve blogger's rights to say what I'd like to have seen there. For me, the only albums of the twelve that I'd have in my own personal Mercury prize list are The Invisible (great to see them nominated) and Friendly Fires. And for what it's worth, here's an alternative dozen.
James Yorkston - When the Haar Rolls In
Camera Obscura - My Maudlin Career
Fanfarlo - Reservoir
Blue Roses - Blue Roses
Emmy the Great - First Love
PJ Harvey & John Parrish - A Man A Woman Walked By
Meursault - Pissing on Bonfires, Kissing With Tongues
Jeremy Warmsley - How We Became
Benjamin Wetherill - Laura
King Creosote - Rims
Joe Gideon and the Shark - Harum Scarum
Stereolab - Chemical Chords
I've noticed that that it pays to release your album as close to the nominations as possible. It's a bit similar to the Oscars, where most of the nominated films came out in the month or so before the anouncement. Here, all but two albums were released in the four months before the shortlist was revealed yesterday. A tip for next year?