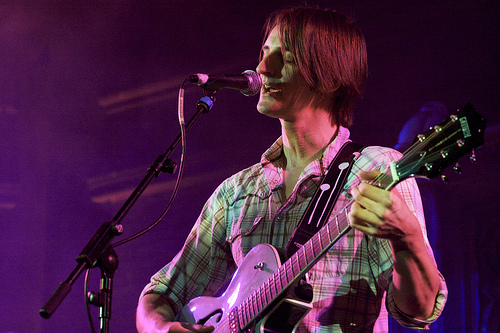 I'm missing out on seeing The Leisure Society at ULU tonight, due to an unfortunate social clash. So I won't be there to witness their triumphant version of A Matter of Time, surely their best song, despite what the Ivor Novello people thought. So instead, here's a version of that song, recorded live last night in the BBC 6 Music Manchester studio for Marc Riley. Just after that, they played a new song, which Nick Hemming said they were 'road-testing' on this current tour. It's called This Phantom Life, and it's ace. Maybe it's just me, but listen to the first couple of lines, and see if you hear any similarities to a certain song that beat The Last of the Melting Snow to the Novello award.
If you're going to the gig tonight, enjoy. If you're thinking about it, tickets are NOW available at a reduced price (£6.75). Get to it!
mp3: The Leisure Society - A Matter of Time (live)
mp3: The Leisure Society - This Phantom Life (live)
The Leisure Society have just signed to Full Time Hobby records, and will be re-releasing their fine album The Sleeper (with bonus material) later in the year. Buy the self-released version now from Rough Trade.
Nick Hemming photo by Anika.