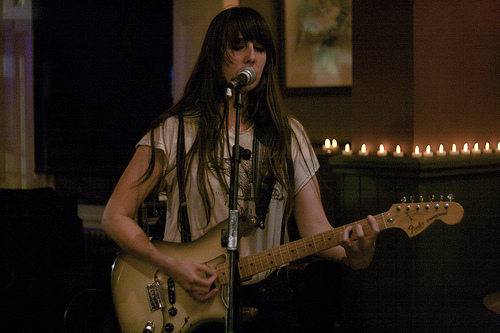 The Britannia is becoming one of the best places for free live music in London. In addition to it being a good bar, having a critically acclaimed menu, and one of London's best beer gardens (that's a proper beer garden, rather than a beer patio like most london pubs) backing onto Victoria Park, there's been a rich run of recent events to draw people to this recently refurbised Victorian boozer. There's their monthly film screenings in collaboration with the BFI, but what's really got my interest in the place is their run of Wednesday evening gigs put on by the fine people at The Local.
So far this year, they've had a residency by folkie Nancy Wallace, and over June they had She Keeps Bees. I couldn't make the first three of their shows, but I swung past for a flying visit on 1 July, just before I went on holiday. Given that Nests is one of my favourite albums of the year so far, I was always going to like their short set, all as gloriously stripped-down and ragged as I'd expected. Jessica was nursing a nasty cold, which made it even more appealing in a way as she continued on though coughs, swigging (medicated?) drinks and self-deprecating jokes, and still managed to keep the bluesy wailing intact. Her chatty, laidback style and the informality of playing on the floor of a pub made it feel less like a gig, more like an impromptu party put on for friends.
The free musical fun continues this evening with London-dwelling Aussie folkie Emily Barker, and the next two weeks sees harpist Serafina Steer. You'll likely see me there at some of these. Since it's just across the park, I've little excuse.
Photo of She Keeps Bees @ The Britannia (not this gig, but one of the previous three) by Anika.