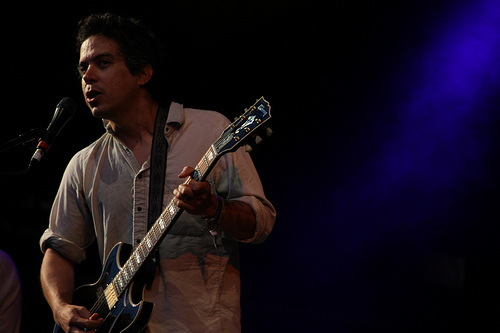 It's not like I expect to go to gigs and hear bands do a perfect recreation of their album's songs on stage. That would just be too boring. That said, I wasn't quite ready for the M. Ward live experience on Tuesday night. I'm sure the muddy sound mix for the first few songs didn't help, but I guess I also wasn't really prepared for a proper rock 'n' roll show.
I mean, I'm not exactly a stranger to the work of Matthew Stephen Ward, but I still had him down as a dusty alt-country type, so the rock, the roll and the straight up honky tonk took me a little by surprise. Not that it should though - listening to his albums, the elements are all there - from the short snappiness of the songs to the barrelling piano riffs. It's just that tonight it's in my face and after my adjusting, it sounds great.
By the time the sound got sorted and I had got used to the band, they had left the stage, leaving Mr Ward alone with an acoustic guitar. This is where he really shines. That he's a good guitarist is obvious enough from his electric crunching, but it's in the acoustic realm that his brilliance is all the more obvious.  The only other time I'd seen M. Ward before was in 2005, just up the road at Bush Hall. That time it was the man himself which was wonderful. Tonight I don't want the solo numbers to end. But he'd brought band all the way across the Atlantic, and it would be rude not to use them.
But this time I was ready for the band, and the rest of the show was a blast. The set list is obviously heavy on his latest album Hold Time, but there are rich pickings from both his previous records (Post-War and Transistor Radio), all cranked up, full of excellent riffs, rip-roaring tunes, and even a spot of note-perfect whistling from one of the band. The honky tonk treatment of many favorrites, particularly old crowd pleaser Helicopter was a rollicking treat, and by the time the gig was over, the only things that seemed missing was the crunch of broken glass and flying chairs.
Ward is rightly lauded for his cover versions, from his lush rendition of Oh Lonesome Me, to flipping that whole concept on its head, with his sparse take on Bowie's Let's Dance . The stripped down majesty of the latter is played out tonight, at the start of the magical acoustic slot. It's also good to hear a meaty treatment of Daniel Johnston's To Go Home, and the full-throttle version of Roll Over Beethoven would have done X proud.
So despite my uncertain start, it was a fine, fine show. I was totally won over and ended up in thrall to the small man on stage with the huge talent and great songs. I won't see him as indie or alt-county any longer. It's classic American Rock 'n' roll, no more and no less, referencing the past greats and moulding these influences into M Ward's own image and delivered by his appealing, husky voice. And that my friends, is exactly the sort of thing that I want.
mp3: M. Ward - Epistemology
mp3: M. Ward - Magic Trick
Hold Time is out now. Buy from Rough Trade or download from emusic. Some of M. Ward's back catalogue is being reissued at a cheap price next month. Pre-order from Rough Trade.
M. Ward at Glastonbury (three days before this gig) photo by sjwilliams82. Given Matt's aversion to photos being taken (even my crappy little point-and-shoot camera had to be handed in) this is a rare thing indeed.