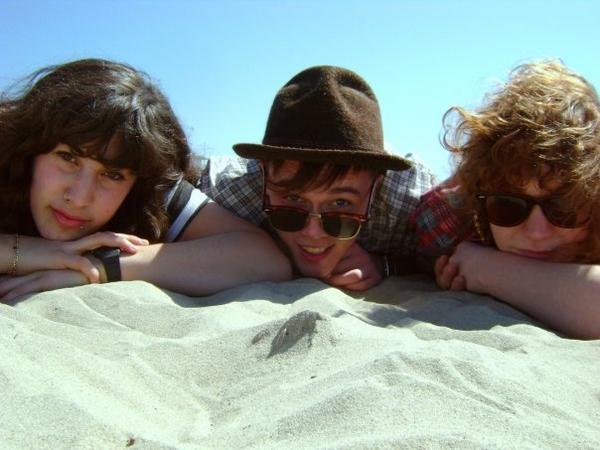 Peggy Sue haven't been on this blog much, though they really ought to have been. I've got a couple of live radio sessions going back over two years which I never got round to posting. And somehow I never featured any of their singles, most of which have been very good. In that time they've been through some changes. Katy Young (ala Katy Klaw) and Rosa Slade (aka Rosa Rex) have dropped "and the Pirates" from their name, now trading as plain old Peggy Sue, but not before a one-off collaboration with Daily Growl faves Left With Pictures which saw the temporary moniker Peggy Sue and the Pictures. They've had a change of personnel too, recently adding the mysterious Olly to their line-up.
Oddly enough, in these past couple of years they've not seen much rise in their stature, even with a lot of big-ups from their celebrity mate Kate Nash, as well as a fair amount of critical acclaim. They've continued putting out quality releases though, and the latest Lover Gone EP is came out last month. Like previous records, it's full of lo-fi acoustic duet goodness, which sees Katy and Rosa trading lines and lyrics with customary aplomb, and Olly bashing away behind them. On Revision, they even abandon their guitars for piano, shifting from slow and mournful to fast and jaunty with ease. Enthusiasm and fun triumphs over slickness and everyone's happy.
Their fortunes however could be about to change with the release of their debut album, which they recently recorded in New York City. Let's hope so. In the meantime, here are some songs - my favourite track from the new EP, a cute cover of Missy Elliot's All n My Grill and a new song, performed live on a BBC 6 Music session recently, so new it didn't even have name.
mp3: Peggy Sue - The Conservationist
mp3: Peggy Sue - All n My Grill (Missy Elliot cover)
mp3: Peggy Sue - New Song (live on BBC 6 Music)
The Lover Gone EP is available to buy now from Peggy Sue's blog. Peggy Sue perform next weekend at this ace-sounding Willkommen Collective bash at Stanmer House near Brighton, as well as Glastonbury and a bunch of other festivals this summer.