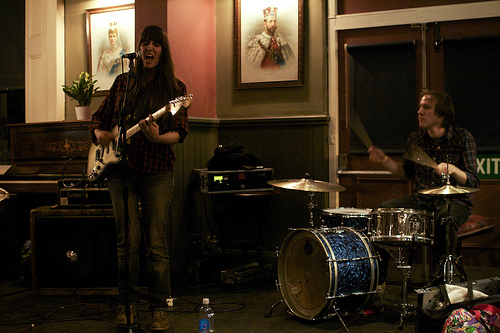 She Keeps Bees like to keep it brief. The 11 tracks on their latest album Nests clock in at less than 27 minutes, so it's clear that they're not pissing about. It's this brevity that's part of their appeal. No flab, just straight to the point bluesy rocking that ought to have Jack and Meg looking over their shoulders.
Songwriter and guitarist Jessica Larrabee's voice is another huge element of appeal; raw and emotive and not unlike my other female vocal fave of the year, Marian Wallentin of Wildbirds & Peacedrums. Indeed, the first track Ribbon, sung without guitar and only Andy LaPlant's drums accompanying, could fit easily on the Swedish couple's latest album. Bones Are Tired, sung softly a capella, is a haunting treat, but elsewhere guitars are cranked up and lyrics are delivered more forcefully. It's all pleasingly stripped down and uncomplicated, but totally focused and leaves you wanting more.
The band also keep it brief in answering my seven questions, but give a little glimpse into just how their fantastic lo-fi sound came about.
1. A song that's been in your head today
Bend It by Little Eva
2. A song you currently love playing live
Make It Easy (unreleased)
3. The last song to make you cry
Same Dream by Sharon Van Etten
4. A song you wish you had written
Passerby by The Love Story and Green Grass by Tom Waits

5. A little-known song that you think everyone should hear
Everybody's Love by Betty Harris
6. A song off an album you're currently enjoying
Blues & Pants off Hot Pants by James Brown
7. Tell us something about a track from your new album
The sounds we got for the guitar on Gimmie (and most of the album) came out of a $5 amplifier and a guitar found in an apartment previously occupied by satanists.
I've already posted Gimme, so here's my current album favourite.
mp3: She Keeps Bees - Cold Eye
Nests is out on 3 August on Names. Pre-order from Rough Trade (and get a free bonus CD of their first album Minisink Hotel!).
Jessica and Andy are midway through their residency at The Britannia in Hackney where they DJ and play live every Wednesday for a month. For free!
A Spotify playlist of the songs that I could find from these seven is here.
She Keeps Bees (@ The Britannia) photo by Anika.