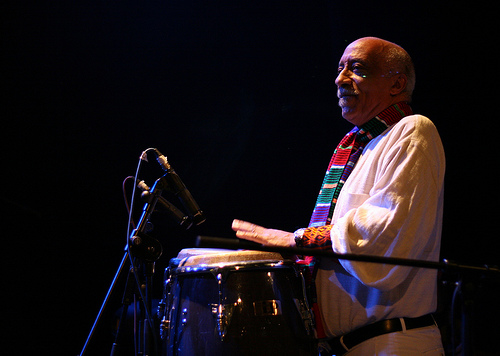 Bringing musical legends together to collaborate and record stuff can be a great idea, but it can come with the great burden of expectation, which may cloud your judgement on how good it is. This is the case for me with the first two albums in the Inspiration Information series, released on the revitalised Strut label. The first one, at the end of last year, was Sly and Robbie teaming up with Amp Fiddler, swiftly followed by Horace Andy getting together with Ashley Beedle. Between all of these, there's such an enormous weight of previous brilliance that you're going to expect some magic when they get together. But despite having many fine moments, somehow these collaborations seem like less than the sum of their parts, and not as amazing as I'd have hoped for.
However a very pleasant surprise comes with the third in the series, which sees the fruits of the meeting of Mulatu Astatke and The Heliocentrics. Maybe it's because both these sets of artists were pretty much unknown to me, that I didn't have the expectations of the previous efforts. Or maybe it's just because it is great on its own accord. I don't know but I've developed a lot of love for this record over the past couple of months. For anyone who's unfamiliar with these guys (like I was), Mulatu Astatke is a legend of Ethiopian jazz, and an ace vibrophone player. My only previous exposure to him was first in Jim Jarmusch's film Broken Flowers, which featured his music as the running score; then there were a few tracks on the excellent Best of Ethiopiques compilation. But he's a legend no doubt, particularly in his home nation. Something borne out by the fact that when he played in London for the first time in 15 years, last April, the Ethiopian ambassador to Britain was dancing onstage with the great man (testified to me by a friend who was there). That gig was the beginning of the relationship between Astatke and The Heliocentrics, the London-based group centred around Malcolm Catto, who have, amongst many other things, backed up DJ Shadow. But it's in backing Astatke that they hit a very rich vein of form.
Since I don't have much of a frame of reference for this album, there's little point in me embarrassing myself. I can hear that it's jazzy and the beats are strong, but it's best I stop there. What I do know that it's a breeze of an album that I've found damn near irresistible lately, just getting into that groove and staying there all the way through. All day even. It's summer folks, and this is the perfect soundtrack to pouring a cold one and kicking back. Nice.
mp3: Horace Andy & Ashley Beedle - Festival Song
mp3: Sly and Robbie & Amp Fiddler - Crazy Day
mp3: Mulatu Astatke & The Heliocentrics - Masengo
mp3: Mulatu Astatke & The Heliocentrics - Blue Nile
The Inspiration Information albums are out now on Strut. Buy from Amazon. If you only buy one go for (unsurprisingly) Mulatu and the Heliocentrics.
Mulatu photo by Redheadwalking.