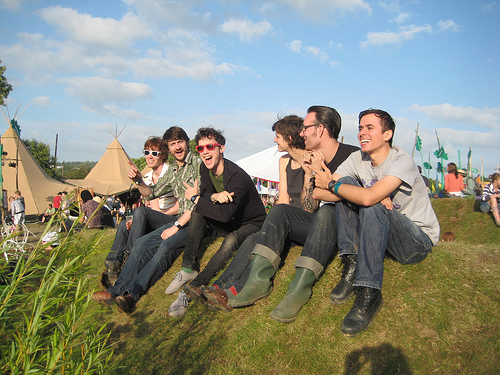 There's been a belated rush of stuff on this blog about Fanfarlo lately, but rightly so. Their brilliant recent album Reservoir has been on steady rotation round my way; so what next to do other than invite lead singer Simon Balthazar (that's him in the middle) to answer my seven questions. Oh, and you've got two weeks left to download Reservoir for $1. Get to it!
1. A song that's been in your head today
Tell Me Why by Neil Young. My flatmate was blasting out After the Gold Rush late last night when I was going to sleep.
2. A song you currently love playing live
Luna [mp3] is always great to play live. It's still a vaguely new, liberating feeling when we play songs where I don't play guitar live and just sing. Singing is the most boring bit in the studio but the best thing live.
3. The last song to make you cry
See (1). Always, always…
4. A song you wish you had written
It Was Raining by The Verlaines
5. Your current guiltiest pleasure
Hate to let you down here, but I don't find myself ever having guilty pleasures… does not mean there isn't ridiculous shit I love though.
6. A song off an album you're currently enjoying
Am really liking the Discovery album at the moment. Don't know the individual songs that well yet, but if I have to name one, the first track Orange Shirt [mp3] is great (this potentially ventures slightly into guilty pleasures territory.)
7. Tell us something about a track from your new album
Chickened out of naming track 8 Cancer Song