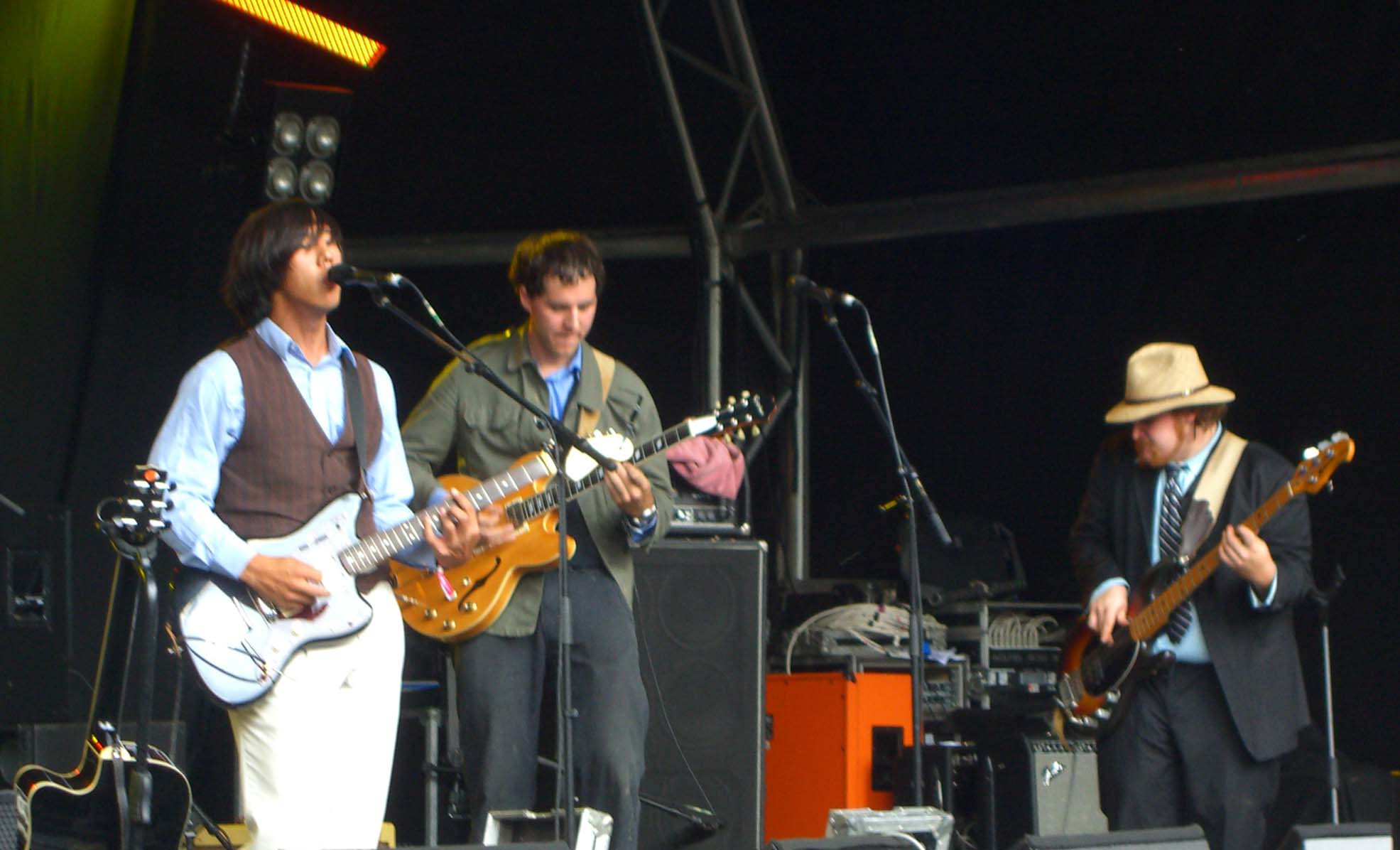 It's been a while since there's been any Young Republic on here, but that's about to change because they've got a new EP out this week. It's a nice little taster for their new album Balletesque (previously touted on this blog here), previewing three songs plus a couple of extra tracks - an alternative version of the album's title track and a new one called Shine On Harvest Moon. They're all great and the title of the new one may give you a clue as to what it sounds like. To mark the occasion, I asked Chris Miller, the band's bassist (that's him on the right), to answer my seven questions. See below for what he has to say about songs to play at weddings, rebelling against the American Dream and what country music does to you. There's a video too.
1. A song that's been in your head today
We just got a list of songs to learn for a friends wedding and I was pretty excited to see Moondance on there, so I've had that swimming around this morning
2. A song you currently love playing live
Bob Dylan's Tonight I'll Be Staying Here With You (in the style of The Rolling Thunder Review).  Its a Bob Dylan song, which is always a good sign and the B Section is pretty rock and roll.  Its all around good fun.
3. The last song to make you cry
I can't remember one particular song, but I was watching CMT (Country Music Television) the other day and a number of those songs made me want to cry…
4. A song you wish you had written
Santa's Super Sleigh - It seemed to work out pretty well for Hugh Grant
5. Your current guiltiest pleasure
I'm not guilty because its awesome, but anything off of Incubus' tour de force effort Make Yourself.  It was great when I was in middle school and is still great now.
6. A song off an album you're currently enjoying
Beyond Here Lies Nothin' off of Bob Dylan's new record.  It sounds as if Tom Waits helped him arrange it for a French Blues Band.
7. Tell us something about a track from your new album
The Alchemist is the first track on the Recession Special EP and the forthcoming Balletesque LP.  Its scored for rock band (bass, drums, guitars, organ and piano), string quintet (3 violins, viola and cello), two trumpets, baritone saxophone and bowed glockenspiel.  Its the story of a traveling salesman coming to grips with the American dream and rebelling against the suburban middle class, or something like that, I didn't write it.  Its been our closing song at all of our recent shows because its the most dramatic thing we play,  its got a violin cadenza!
mp3: The Young Republic - The Alchemist
Buy the Recession Special EP from the YR website. The new album will be out in the UK on End of the Road Records in autumn (or Fall as they would say), and they'll hopefully be over here around that time too. They still don't have a US record deal. Get busy American record labels!
Watch the band performing the EP version of Balletesque.