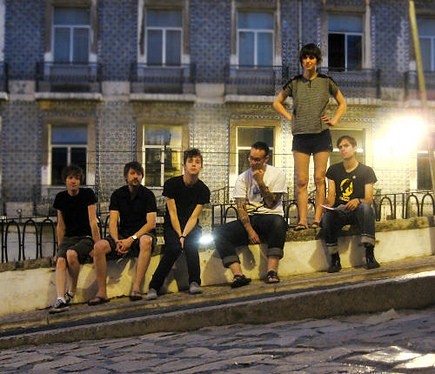 Shockingly, I almost let this one pass me by. I'd picked up a couple of their singles last year, but when Fanfarlo's debut album was released (digitally) in February I was slow to move. More fool me, because I almost missed out on what I'm sure will be one of my albums of the year. I've now had a couple of weeks to absorb Reservoir which is plenty time to realise what an impressive piece of work it is.
If this is your introduction to the London-based 5-piece, you'll be amazed at how fully-fledged it is for a first record. Sure, the production duties are from Peter Katis (who's handled Interpol and The National), someone who knows how to make bands sound big, but the songs, and (I'm assuming) the arrangements are the band's own. Theirs is a rich, heady brew of heavily orchestrated indie pop which has seen the usual comparisons to Arcade Fire and Beirut. The former is inevitable just because they use violins, mandolins and accordions (but not entirely unfair); the latter no doubt because of The Walls Are Coming Down (there really is a similarity here) and the scattering of mournful trumpet across the album. But these aside, this is the sound of a young band comfortable in their own grandiosity, and as Reservoir slowly and carefully unfolds, it's impossible not to be swept along.
mp3: Fanfarlo - I'm A Pilot
mp3: Fanfarlo - The Walls Are Coming Down
Reservoir is out now, shockingly self-released. There was a limited edition box set available to buy from Rough Trade, but that seems to have sold out. But never fear, from this week until 4 July you can download it for $1 from the band's website. That's 62p people! Now you've got no excuse for not owning it.