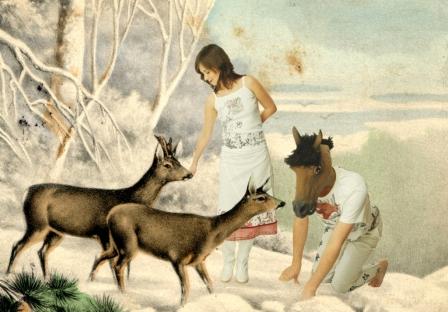 Need No Water Records, who brought us the excellent Wytchwoods EP by Blacklands earlier in the year, have come up with something else quite special. This time it's not one lovely 7 inch, but two. The first actually came out in February and featured the song Robin by Belgian couple Soy un Caballo, and an English Translation of it by Tunng. The latest features the same concept but in reverse. On the B-side is Birchwood Beaker by English-born, Paris resident songstress This is the Kit, aka Kate Stables. The A-side is a cover of that song, translated into French by our friends Soy un Caballo, Thomas Van Cottom and Aurelie Muller.
These are gorgeous little collaborations, the sort of thing that makes your day that bit brighter, but they can easily pass you by. Both did pass me by initially, despite the promo emails, and now I'm in the position of having missed a bunch of joint London dates by both the Belgians and This is the Kit. Oh well, that'll teach me. Still, at least I've got the music which I can put on repeat to make up for it. Both groups demand further investigation.
Soy un Caballo myspace / This is the Kit myspace
mp3: This is the Kit - Birchwood Beaker
mp3: Soy un Caballo - Robin
The Robin 7 inch is out now. The Birchwood Beaker / A Travers La Neige 7 inch is out on 8 June. Buy both from the Need No Water shop.