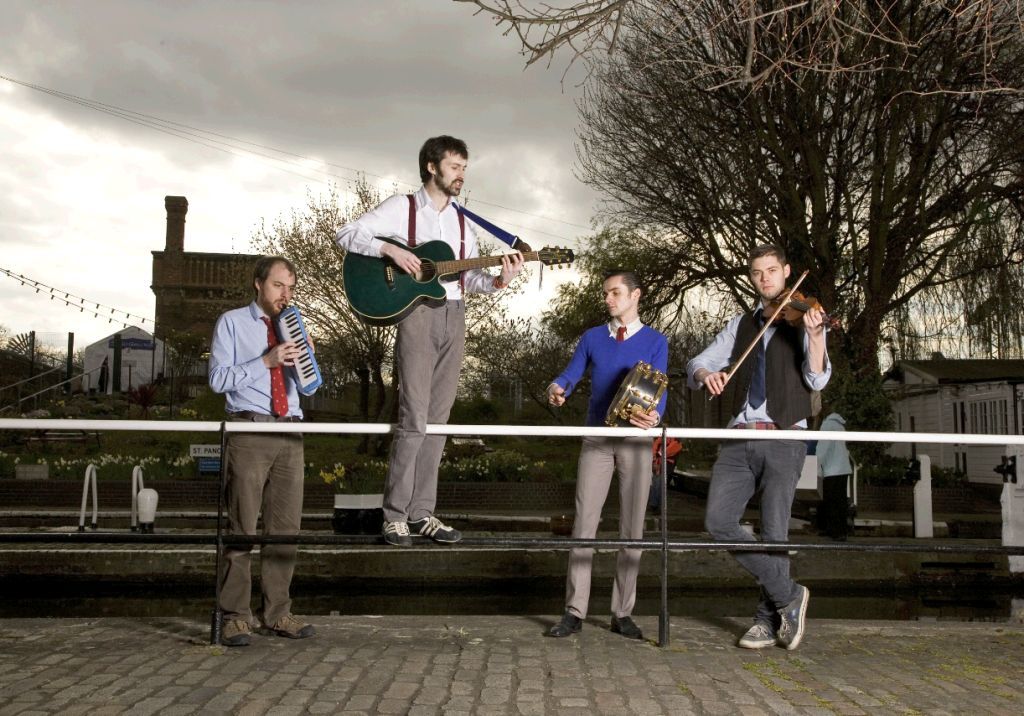 Left With Pictures have a new single out. The 7 inch comprises two songs - Every Stitch, Every Line and Her Father's Nose - which are another fine showcase for the London quartet's agreeable chamber pop, this time with a definite spring in their step. It's good stuff and augurs well for their debut full-length in September. So it's a good time to get them to tell us their Seven Songs. The band's Stuart Barter obliges and lets us know about the benefits of expanding to a four-piece, the beauty of upside down musical notes, and weeping to Oasis.
1. A song that's been in your head today
No One Does It Like You by Department of Eagles has been in my head a lot. I keep bursting into the chorus! It was DJ'd twice last night at a show we played at Bush Hall supporting My Latest Novel, so that explains why its wormed its way in. I'm a big fan of their album - In Ear Park - so I don't mind having them in my head.
2. A song you currently love playing live
We have a song called Secretly, which is the title track to an EP we released last September on Organ Grinder Records. We've played it lots now so its really taking off when we perform it. Plus we've recently expanded to a four-piece, so its all got a bit more beefy.
3. The last song to make you cry
When I was about 13 or 14, Half The World Away by Oasis used to set me off. Looking back on it, I think it was more to do with my fragile emotional state brought on by puberty than the song itself! I still like that song though - one of their rare delicate moments.
4. A song you wish you had written
There's a setting of William Blake's The Lamb by the British composer John Tavener which I think is a little piece of genius. It's written for unaccompanied choir and the whole thing is based on a simple, 4-note melody, which he manipulates by turning the four notes upside down and backwards. The result is that some passages are rich and beautiful, and others are strange, jarring and discordant. It's 3 minutes long but its a real journey. It's on Spotify, so I suggest going off to listen right now. Quite, quite beautiful.
5. Your current guiltiest pleasure
Well, there's a few Girls Aloud / Sugababes songs I enjoy, but its sort of cool to like them now isn't it?! Soooo….I have a soft spot for Coldplay, particularly The Scientist from Rush of Blood to the Head, so lets say that one.
6. A song off an album you're currently enjoying
I just bought the Fanfarlo record, and I particularly like the third track, Luna from that one. A great melody, and I love the slow outro.
7. Tell us something about a track from your new album
The first track on our debut album (out in September) is called Beyond Our Means. Its a song about the financial credit crunch, but also the emotional credit crunch! Its for all those times you make promises you can't keep….
mp3: Left With Pictures - Secretly
The new 7 inch is out now on Organ Grinder Records. Buy direct from the label. The 7 inch with the songs also on CD for £2.50? Bargain.