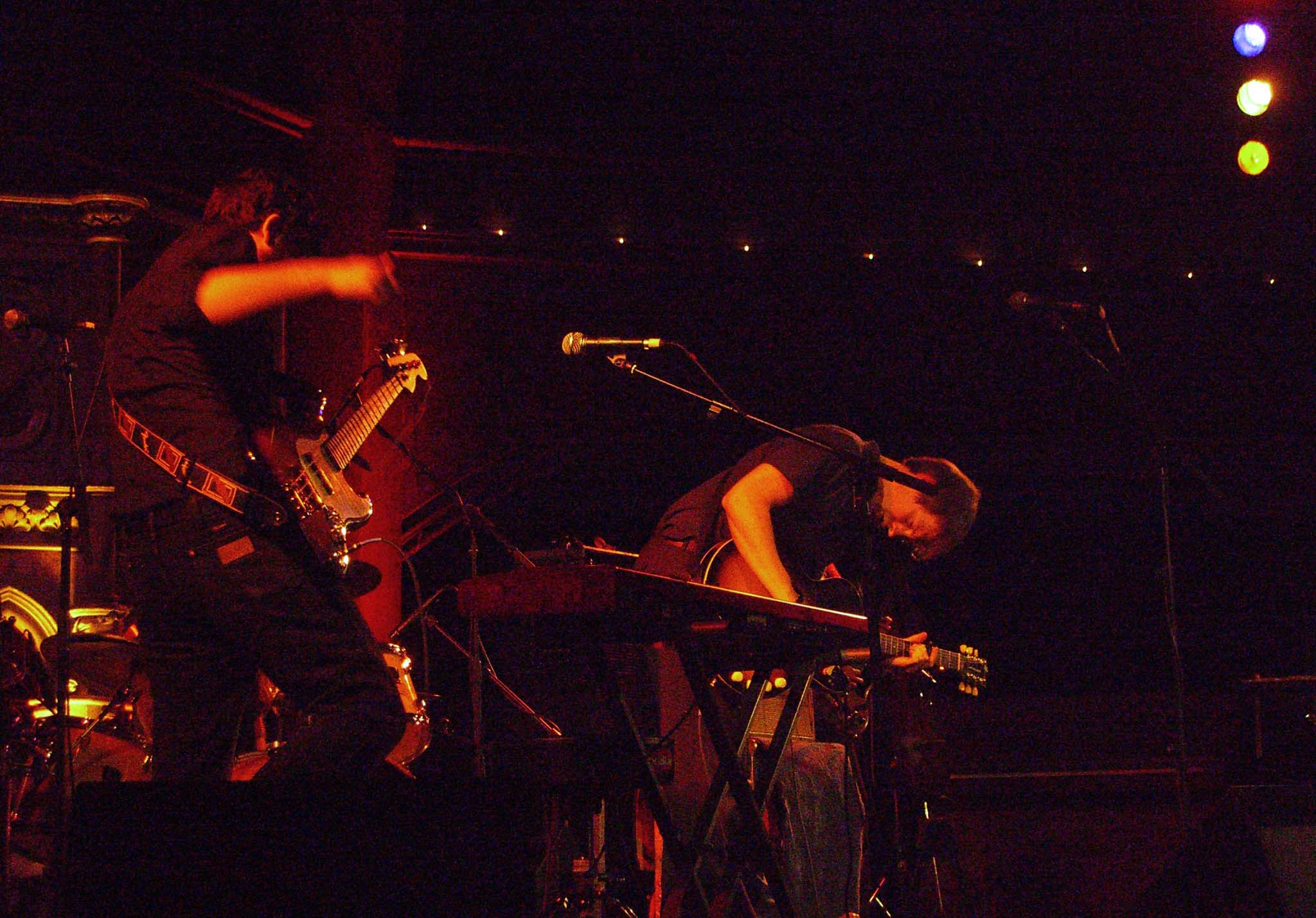 It's not very often that you get to put on your two favourite bands on the same night. So says Howard Monk, head honcho of ace London promoters The Local, who are putting on tonight's highly promising show. They may not be my very favourite bands, but between them they were responsible for one of my top albums (Rook) and one of my most enjoyed songs (Dancing on My Grave) of last year. So good things are bound to follow.
Sure enough. The Cave Singers get a decent support slot (45 minutes) which gives them plenty time to treat us to songs from their debut Invitation Songs, as well as air a few new tunes. Their new album Welcome Joy is out in August, and I think I may have to hear the songs a few times more before I make up my mind because I didn't connect with them as well as I thought I would. There's an uptempo stomper near the end which is excellent, but I'm not so sure about the rest which seem to move away from the scratchy folk rock of the first album and more towards 70s West Cost rock. Still, there's time. It took time for Invitation Songs to grow on me, but it worked in the end.
A couple of particularly pleasing things were the noticeable development of Pete Quirk's voice, which seems less nasal these days and more rasping and deep-throated - it goes nicely with his bigger, bushier beard. And their version of Dancing on Our Graves which was predictably brilliant. I mean, they've got a washboard. What can go wrong?
mp3: The Cave Singers - Dancing on Our Graves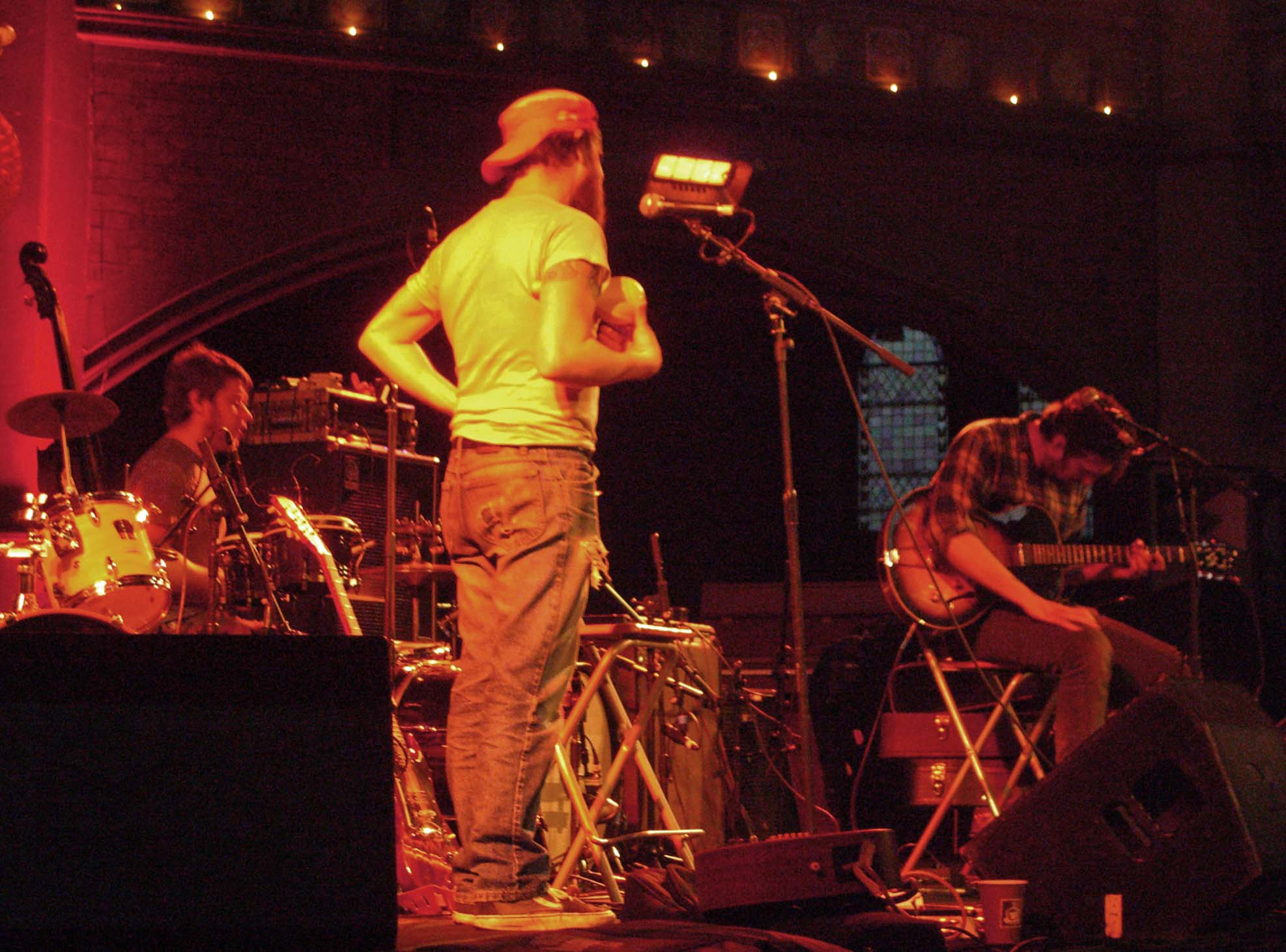 Shearwater waste no time getting straight to the full-on guitar assault. Anyone expecting their quieter moments in a church were to be confounded as Jonathan Meiburg and co. crank up the volume for most of an hour. Towards the end of their set, Meiburg apologises for "bludgeoning you in the beautiful space". Not that we're complaining, but it's worth the apology to hear a gorgeous rendition of The Hunter's Star.
There are so many things to enjoy in this set that time and space would not allow here, but here are some. The way that everything is so carefully controlled. Sure, there's noise and feedback, but everything here is intended, there's no mucking about; so much attention to detail, all of which matters. The dizzying array of talents on display - no-one plays less than three instruments and rarely plays the same one from one song to another. Virtuosity alone should not be enough win you over, but it's the combination of skill, great songs and emotional power that's so thrilling. And although all the band members are impressive, it's the mighty Thor who's surely everyone's favourite, with his wild-yet-dapper appearance, his handmade instruments and his mad drumming skills.
Like I said, there's so much to enjoy and all of these add up to a gig that thrilled, excited and drove almost everyone to their feet at the end. And I almost forgot the mention the new songs. A few were played and if they're anything to go by, the next album will be a masterpiece.
mp3: Shearwater - The Hunter's Star
mp3: Shearwater - Red Sea, Black Sea
Shearwater myspace / website
Cave Singers myspace / blog
Buy Shearwater albums from emusic. The Cave Singers too.