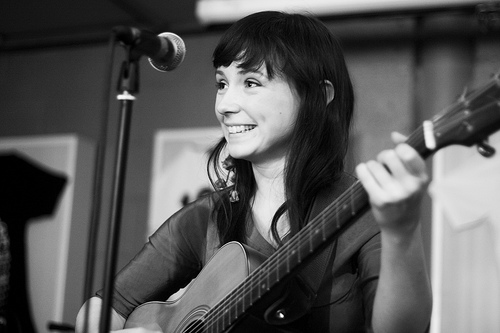 As far as I know, Blue Roses have only ever recorded ten songs, which means that their live sets must be quite short. Thankfully these ten songs are exquisitely beautiful, so the sets will be also be very sweet. If you want to find out how Laura Groves' ten lovely songs translate live, you can check out upcoming gigs in Brighton and London. I'll be finding out for myself at the Wilmington Arms on 3 June, where I'm hoping Laura will also dust off her old tune Bridges.
As a wee taster, here are a couple of tracks that Laura and co played live for Marc Riley on BBC 6 Music on Monday. You can catch the whole show on iPlayer until next week if you want to hear the accompanying chat.
mp3: Blue Roses - Doubtful Comforts (live on BBC 6 Music)
mp3: Blue Roses - Greatest Thoughts (live on BBC 6 Music)
Blue Roses' self-titled debut is out now. Buy from Pure Groove.
Photo by Anika.