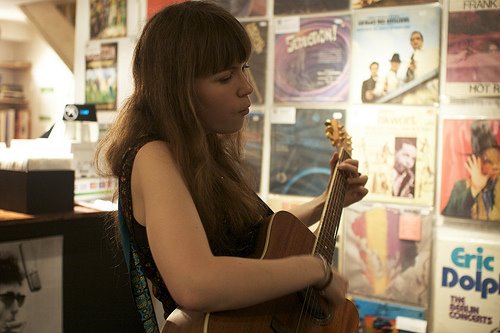 A couple of years ago Dev Hynes made the journey from London to Omaha, Nebraska to have his debut album produced by Mike Mogis. The result was a triumph of production with the Bright Eyes man taking the often thin Lightspeed Champion songs and turning them into a country-tinged indie pop sucess.
Last year Alessi Laurent-Marke made the same trip for the same reason. Although this time I'm not sure the whizzy production was quite so necessary. Sure, the freewheeling country rock makeover suits the songs on Notes From The Treehouse just fine, but I can't help but imagine what they might be like if they were a little less adorned. Just like her recent ICA gig, by the time we get to the stripped-down Woman, the possibilities of what it might have been seem all the more acute.
That's not to suggest that Alessi has been strongarmed by a record comany over-eager for some success. I know that she was a willing partner; after all, who would sniff at such an opportunity, particularly when she was already a Bright Eyes fan. But there's enough loveliness present in the various live acoustic performances to be found around the internets to know how good the songs are with just Alessi, her quaint vocals and her acoustic guitar.
So a qualified thumbs up then. There's plenty to enjoy on this album, but for me the significant thing is the introduction of a major new talent. I'm fairly sure she's got an amazing album to come in the not-too-distant future.
mp3: Alessi's Ark - The Dog
mp3: Alessi's Ark - Constellations
Notes From The Treehouse is out next week on Virgin. Buy from Rough Trade (it's their album of the week, with bonus 4-track EP, including bizarrely, a Lynrd Skynrd cover).
Photo by Anika.