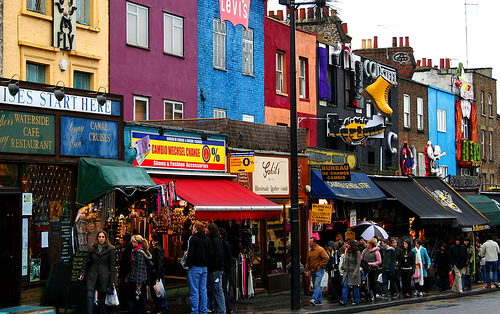 It was the Camden Crawl at the weekend. I wasn't much interested in this year's festival, but it's the perfect time to mention a CD I found the other day when clearing out a bunch of old stuff. The free Camden Crawl compilation from 1997.
Things were different then. No big-name headliners. No cider sponsorship or BBC backing. No long queues to get into venues. Just a handful of scruffy Camden venues and a bunch of scruffy indie bands, and being 1997, some big beat outfits as well. It seems a bit sad looking back, but at the time it was pretty exciting. For me anyway.
These were headier times. I had only been in London for a month or so. I already knew all about Camden from the pages of the NME, as Britpop's spiritual home, and I was desperate for a piece of the action. So there I was, on the streets with some friends, freshly-snapped on wristbands, all ready for the post-Britpop indie action.
I can't remember that much about the night. I recall a long trek to a half-empty Forum (that's Kentish Town, not Camden) to see Ultrasound and Lo-Fidelity Allstars (I think). I'm sure we saw the Warm Jets at Dingwalls, and someone else at The Electric Ballroom (might have been Silver Sun). And we crammed into the back of the Barfly to hear Tanya Donnelly (couldn't see a thing). There may have been others. I seem to remember it being a good night, though I don't think it was a good one for the organisers. That was the last Camden Crawl for a good few years, at least till it was revived in its current format a few years back.
Looking at the list of the bands today, I've no idea who some of them are. Whether Overseer, Topper, Velocette and Vitro? Some had only a brief moment in the sun (most of the bands mentioned above). And of course a little know bunch of indie shamblers called Snow Patrol. I wonder how many of this year's line-up will cause a similar shrug in twelve years time? Here are a few tracks.
mp3: Tanya Donnelly - Landspeed Song
mp3: Lo-Fidelity Allstars - Diamonds are Forever
mp3: Silver Sun - Reasons to Live
mp3: Ultrasound - Floodlit World
mp3: Warm Jets - Down Down Down
Camden Town photo by Rob Inh00d