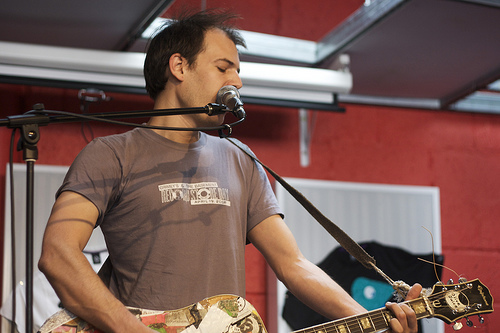 Lunchtimes may never be the same again. After I moved offices recently, I found myself right on a direct bus route to Farringdon, so a short bus ride takes me to just down the road from Pure Groove Records. So my new lunchtimes go like this. Look at Pure Groove website. See if there's a lunchtime show on. Leave office at 1pm. Cross road and get bus to Farringdon Road. Walk to Pure Groove. Order coffee and browse records. Watch band. Go back to work the way I came.
It's a winning formula, but not all of the above happened on Tuesday, mainly because Jeffrey Lewis is a popular man. So no coffee and browsing, but packing in tightly to watch the thinner-haired New Yorker on stage entertain the lunchtime troops with four songs and plenty quality chat. He played songs from his new album Em Are I of course, as well as a version of his New York punk history song. He shared some amusing limericks and had a wee pop at his hosts for now being a proper record shop any more. It was all good stuff, which made up a little for not getting to see him last night at the Scala. This is the way lunchtimes ought to be.
Oh, and the new album? It's excellent. All I expected and more. Here's a track.
mp3: Jeffrey Lewis & the Junkyard - Bugs & Flowers
Em Are I is out now on Rough Trade (vinyl next week). Buy from Rough Trade or download from emusic.
Instore photo by Anika.