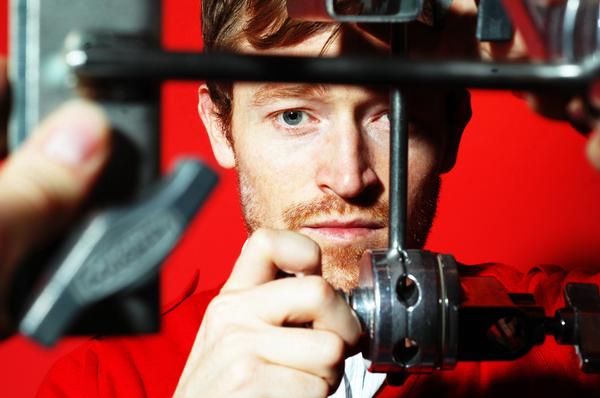 Things are changing in the world of Barbarossa. The red-bearded one, also known as James Mathe has previously released two albums, the last of which, Chemical Campfires in 2006 was a lovely affair, where fireside acoustic pluckings sat comfortably alongside crackling electronics. It was a downbeat affair, but perfectly flavoured and it was one of my favourite albums of that year.
This time around, on the evidence of the songs on his new EP The Pallyacho Tapes, Mathe has pushed the electronic element a little further. The opening track on the EP is a remix of Seven Years from Chemical Campfires, which serves as an impressive statement of intent of the way things are heading, as the acoustic loveliness of the original is given some perfectly-matched beats and electronic enhancement. The new songs see Barbarossa entering the door marked 'electronic pop' without really leaving his folky sensibilities behind. It's a direction that suits him well.
James and his band played some songs from the EP when they played live for Marc Riley on BBC 6 Music earlier in the year, so they're up for download below, along with a couple from the EP. The live tracks are very good - let's hope he gets his show on the road soon.
mp3: Barbarossa - Pallyacho
mp3: Barbarossa - Seven Years (Tenka Set Mix)
mp3: Barbarossa - Bloodline (live on bbc 6 Music)
mp3: Barbarossa - The Load (live on BBC 6 Music)
The Pallyacho Tapes EP is out now on 12 inch, in a great luminous pink latex-lined cover. Buy from Rough Trade (they seem to have had a big pile of these in Rough Trade East for a while now.) You know what to do.