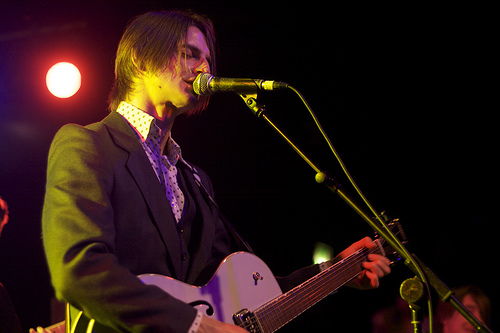 Everyone loves a triumph of the underdog story. Yesterday we had one. All the major news outlets had it, the tale of the bloke who works in a fabric warehouse who had to get off work to attend the awards nomination ceremony, rubbing shoulders with the stars before having to head back and finish his shift. His song is nominated against the all-conquering Elbow and Alex Turner's Last Shadow Puppets, and he's the first unpublished songwriter to be nominated for an Ivor Novello. The circumstances are given added poignancy with the backstory of writing the song alone on New Year's Eve with nothing but vodka and lovelorn regrets.
You'll know by know that the bloke is Nick Hemming and his band is The Leisure Society, even if you've never heard of them before. All this has come at a good time for the band, only a couple of weeks after the release of their debut album The Sleeper. So what should all these newly interested people, fresh from news sites expect? Well, it's a decent, solid if unremarkable album. Last of the Falling Snow is a gorgeous song, but maybe that set the bar too high for me.  It hasn't grabbed me in the way that I thought it would. However, there is plenty to enjoy, and if you like your music well-mannered with a dash of sweeping romanticism, melancholy and a flourish of strings, then it should be up your street. Maybe I just need to spend more time with it, and let the carefully-constructed melodies work their way into my thick skull. Actually, since giving the album a couple more spins since this news, it's working better for me already. It seems to improve towards the end, with A Matter of Time almost as good as the nominated tune, and album closer Love's Enormous Wings is stirring stuff despite some cheesy lyrics.
Whether Nick will win is another issue. Since he's now had his day in the sun, it seems unlikely, but I'm sure Guy Garvey, who has long championed Hemming's song on his BBC 6 Music show, won't be sad to lose to it. Whatever the case, there will be some welcome exposure for The Leisure Society, maybe even the wider Willkommen Collective and with any luck Nick will be able to step out of the shadows of his former bandmates Shane Meadows and Paddy Considine.
mp3: The Leisure Society - A Matter of Time
mp3: The Leisure Society - Love's Enormous Wings
Buy The Sleeper from Rough Trade and get a bonus disc of songs from other Wilkommen Collective bands. And to cash in on the Novello nomination (who can blame them?), some 7 inches of …Falling Snow backed by A Matter of Time have been pressed up. Snap them up quick from Wilkommen Records.
Nick Hemming photo by Anika.