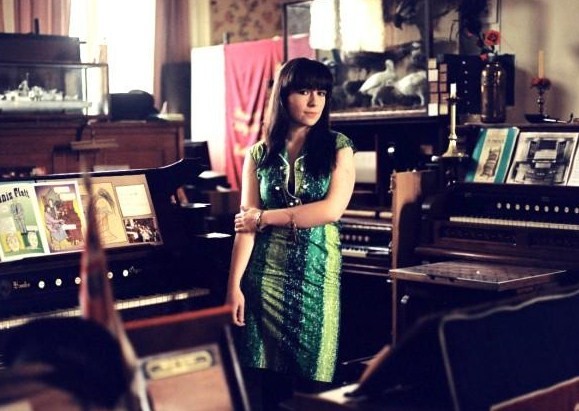 The market for young female singer-songwriters is a crowded and cutthroat one at the moment, so you're if you're going to stand out, you're going to either need a big record company budget behind you, or just be really good. I've got little interest in the former, so on the latter… enter Laura Groves.
Laura's been around for few years now, based out of her Yorkshire home in Shipley, recording and gigging around the north, with occasional forays south. One of these would no doubt have been to sign to Salvia, an imprint of XL records, who are about to release her debut album under her new Blue Roses name. It's a beautiful record, where the strongest feature is Laura's voice. Her keening vocals have seen the words like Joni' and 'Mitchell' being used, but the goodness is all her own. I guess the album stands or falls on whether her vocals are to your taste, but listening to their purity and clarity, it's hard for me to imagine why anyone wouldn't like this.
There's a sense of space and calm, and nothing seems is forced. It's probably no coincidence that Laura has bided her time. I tipped her for big things in 2007, back when she had no label. But she's been associated with Salvia for a while now, and they've certainly not rushed out a record to capatalise on all things young and acoustic. Her talent has been allowed to develop and she's collected ten songs which are as mature and well-formed as they are captivating. Fizzing synth and gently plucked guitar sit happily together along with melodica on I am Leaving, a choir bribed by cakes features on Cover Your Tracks and there is a very pleasing vinyl-style crackle on Doubtful Comforts. Even although (counting Doubtful Comforts which was released as a free track a couple of months ago) six of the ten tracks here were already known to me, they sit nicely together as a piece, where not a second, not a note is wasted. As a bonus, the artwork in semi-sepia colours smartly matches the tone of the album. There's an air of other-worldliness about the songs, with lyrics about ships masts and anchors, going to the station, and searching all night for a piece of bread all evoke a somewhat hazier, more monochrome time.
As debut albums go it's near perfect, which I'm certain will tower above all other things young, female and folky this year. Unless there's something very remarkable to come.
mp3: Blue Roses - Greatest Thoughts
mp3: Blue Roses - Can't Sleep
Blue Roses is out next week on Salvia / XL. At least that's what the press release said - looks like Rough Trade are selling it this week, so I recommend that you get it from there. Laura plays with Peggy Sue and Alessi's Ark at the Borderline on 15 May, plus various other instores and festivals.