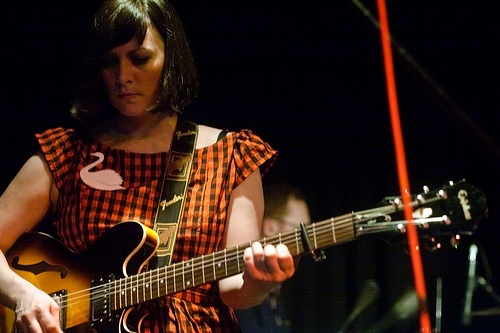 You'd be forgiven for thinking that this blog was changing its name to The Daily Camera Obscura, given their prominence on here of late. But I'm making no excuses in talking even more about them, for two main reasons - (1) their new album My Maudlin Career is out next week and (2) it's brilliant.
Three years ago, after previously releasing two decent albums of indie-pop, Let's Get Out of This Country saw the Glasgow band take a major step up, with a more polished sound which suited them perfectly, but more crucially, better songs. It was an excellent album, which obviously left the standards high for the follow-up.
This time, Traceyanne Campbell and the gang have decided not to mess around with last time's winning formula. They returned to Sweden to work with producer Jari Haapalainen, who seems to be a perfect match for the band, bringing out the best in all the players. Of course all of this wouldn't count for anything if the songs weren't strong, but that's not a problem. There are eleven here, carefully selected, and flab-free. It's all top-quality stuff, high-sheen indie pop, with plenty hooks, riffs, singalong choruses and finished off perfectly with Campbell's effortless vocals.
Honestly, there's not a bad thing I can say about this album. It was a slow starter for me, but it didn't take long before I fully embraced it as not just a worthy successor to …Country, but quite possibly an even better record. If Lloyd, I'm Ready to Be Heartbroken was the indie kids' anthem of 2006, then surely Honey in the Sun is its heir and successor. I've not listened to any album more this year than My Maudlin Career (not even Merriweather Post Pavilion), and there's one good, clear reason for that.
mp3: Camera Obscura - Careless Love
mp3: Camera Obscura - Honey in the Sun
Camera Obscura myspace / website
My Maudlin Career is out on 4AD next week. Pre-order from Rough Trade. The band start a short UK tour next Tuesday in Newcastle, Shepherd's Bush Empire next Thursday!
Recently on The Daily Growl: Camera Obscura's Seven Songs / live mp3s
Traceyanne pic by Crazybobbles