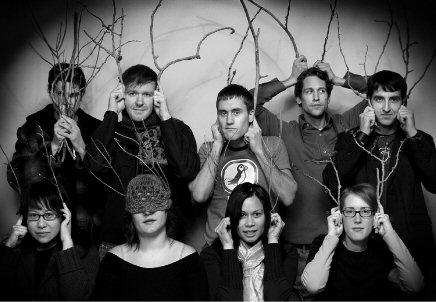 A casual observer may think that Woodpigeon are very prolific, given that End of the Road Records released their first album Songbook last September, closely followed by their second long-player Treasury Library Canada in February. But the truth is that different international release schedules have been kind to British fans of the Calgary-based band. That debut record came out in 2006, and last year they self-released the follow-up in their homeland, and promptly sold out of all the copies they had, so they're obviously doing something right.
I'm a huge fan of Songbook, which made it into my albums of 2008. You might not think that we need another multi-limbed Canadian collective, but on the evidence of the lush orchestral pop on Songbook, we certainly do. Treasury Library Canada picks up from where Songbook left off, which is fine by me. Mind you, it didn't really feel like listening to a new album, because a good few of the tracks had been out there for a while, and since I only discovered Woodpigeon last summer, I was listening to songs from the second album at the same time I was playing the first. But still, it's nice to hear them all together, in the way that was intended. There's more of the widescreen indie-pop that they do so well, and plenty of references to classic, sweeping American music from Sufjan Stevens (not just in the verbose song titles, 7th Fret Over Andres sounds like a dead ringer for To Be Alone With You) to Simon and Garfunkel. It's mostly great stuff, with my only gripe being that it tails off a bit towards the end, perhaps inevitably given that there are 14 tracks (no album should be that long). With a little bit more judicious pruning, Treasury… would be a minor masterpiece. As it stands, it's still a lovely album, great songwriting and superb ensemble playing from a fine group.
mp3: Woodpigeon - I Live a Lot of Places
mp3: Woodpigeon - Cities of Weather
Woodpigeon myspace / website

Treasury Library Canada is out now on End of the Road Records. Buy from their website, or from Rough Trade to get a free bonus (10 track) CD. Woodpigeon are back in the UK in May for the Phrased and Confused tour, and again in August for a few festivals.